Tuesday, 4th July 2023, from 12:00 to 13:45 h. CEST (UTC+2). Venue: Espacio Fundación Telefónica (c/ Fuencarral 3, Madrid).
Disinformation is not only the reverse of the global information society. It is also one of the biggest socio-political problems faced by governments and societies around the world, especially in the face of processes that, such as elections, give the opportunity to generate and modulate climates of opinion with hardly any time to reverse them.
In less than a decade, several countries around the world have incorporated disinformation into their hybrid strategies against their adversaries. The European Union has therefore developed numerous tools to combat disinformation campaigns, but also to better understand them and move towards greater social resilience in the face of hybrid strategies in digital networks.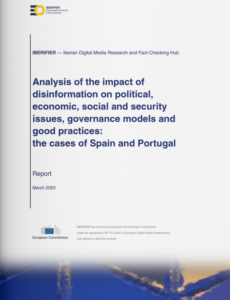 In Spain and Portugal, a group of more than 20 institutions including universities, research and high-tech centres or factcheckers launched the IBERIFIER project two years ago —within the European Digital Media Observatory financed by the European Commission— which work ends, in a first phase, in these weeks, and which has studied the phenomenon of disinformation in the Iberian Peninsula.
The Elcano Royal Institute has been in charge of coordinating the study of the geostrategic dimension of disinformation in Spain and Portugal which was presented at the event.
Podcast Conversaciones Elcano: ¿Cómo combatir la desinformación? – 3X06 (in Spanish)
Hashtags: #Iberifier | #CombatirLaDesinformación
Welcome:
Pablo Gonzalo, Global Head of Knowledge and Digital Culture Area, Fundación Telefónica | @PabGonzalo
Charles Powell, Director, Elcano Royal Institute | @CharlesTPowell
Participants:
Moderator: Carlos Franganillo, journalist and presenter of Television News 2 of La 1, Television Española | @cfranganillo