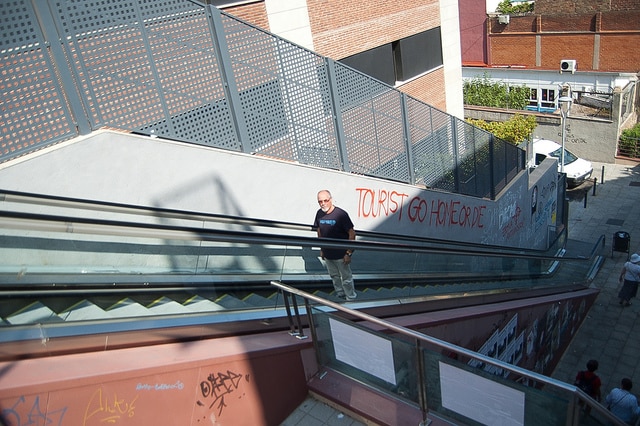 Spain's tourism industry, a cornerstone of the economy, will set yet another record this year, with the number of tourists forecast at 84 million, but it is beginning to become a victim of its own success.
The epicentre of the problem is Barcelona, which is saturated with holidaymakers including more than 2.5 million cruise ship passengers who disembark at Europe's largest cruise ship port for a short visit. Last year, an estimated 32 million visitors swamped the city's 1.6 million residents. Madrid, in comparison, does not have this problem.
Graffiti blaring 'Tourists go home' has appeared across the Catalan capital. Residents complain of excessive noise, a lack of space, soaring rentals and financial benefits from tourism that are unevenly spread.
An anarchist group called Arran slashed the tyres of a sightseeing bus in August and daubed it with slogans. The group published a video of the attack online with the caption 'mass tourism kills the neighbourhoods, destroys the territory and condemns the working class to misery'.
Earlier in the year, the city's left-wing council prohibited the opening of new hotels in the centre, ordered the closure of 2,332 illegal tourist flats and banned the use of electric scooters and Segways in the centre. The council fined holiday rental websites Airbnb and HomeAway €600,000 each last November for offering 5,556 unlicensed properties.
Authorities in the nearby Balearic Islands (Mallorca, Menorca, Ibiza and Formentera) have gone even further by recently placing an absolute limit on the number of tourists that can be accommodated – 623,624. How the authorities are going to distinguish between a tourist and a non-tourist remains to be seen.
Tourism is also threatened by terrorism. Catalonia suffered two vehicle attacks last month, which killed 16 people and wounded 120 in Barcelona's Las Ramblas, one of the world's most emblematic streets, and the seaside resort of Cambrils. The victims came from 34 countries.
Such attacks, including those in London, Berlin and Paris, do not have a lasting effect, however, on tourism unless they are of high frequency.
The tensions have given rise to a new word –tourism-phobia– in the country that has played a leading role in mass (package) tourism over the last 60 years, particularly for British tourists, 18 million of whom went on holiday in Spain last year and even more of them this year.
It was in 1957 that British European Airways introduced a route to Valencia, near Alicante in eastern Spain; the term Costa Blanca was created to promote it. Since then the tourism industry has grown inexorably and become a mainstay of the economy (12% of GDP).
In the last nine years, during which the economy was very much in the doldrums (the pre-crisis GDP was not recovered until the second quarter of this year), the number of tourists rose from 57.2 million in 2008 to 75.6 million last year. The vibrant industry helped pull Spain out of a deep recession: 12.5% of the total contracts of almost 20 million signed in 2016 were for waiters, just over half of which were for less than seven days. The buoyant industry has played a key role in lowering the unemployment rate from a high of 27% in 2013 to 17%.
The rise year after year in tourists has led to a surge in hotel rooms and other forms of accommodation. The number of such rooms in Spain, the world's third most popular destination, increased from 1.9 million in 1990 to 3.5 million last year, a steeper rise than France, the world's leading tourist country (from 4 million to 5.1 million), Italy (from 3.3 million to 4.9 million) and Germany (from 2.1 million to 3.3 million).
There has also been a boom in accommodation for tourists in private homes, through the likes of Airbnb and others. According to a survey of 22 cities by Exceltur, the number of these beds available rose from 20,913 in 2012 to 362,493 in 2016.
The tensions have sparked a much-needed debate on the future of the tourism industry, but, as Carlos Espinosa de Monteros, High Commissioner for the Spain Brand (Marca España), points out one-third of tourists come to Spain in just two months (July and August), mostly to the Costa del Sol, the Costa Brava and the Costa Blanca, and in the rest of the year there are no problems of saturation.
Barcelona's problem is a particular one. More broadly, the challenge is to lure more tourists to come not in the summer season (for example Russians and Chinese are not attracted by sun and very crowded beaches) and diversify the industry, with more emphasis on quality than quantity and into parts of Spain that receive, relatively speaking, few tourists, such as Galicia.
This, of course, is easier said than done. The vast majority of tourists come to Spain for the beaches and will always do so.