The report builds on the result of the European Think Tanks Group (ETTG) and the Elcano Royal Institute cooperation, with the support of the Spanish State Secretariat for International Cooperation of the Ministry of Foreign Affairs, European Union and Cooperation.
Key messages
The volatility of the current world context –significantly shaped by the COVID-19 pandemic and the Ukraine crisis– poses several challenges for the EU in its ambition to consolidate its geopolitical narrative and maintain its position of global development leader. As the world's largest donor, the EU has a crucial role to play in upholding the multilateral system and advancing the 2030 Agenda, but it often struggles to find a unified, coherent and visible voice.
The EU needs to critically rethink its partnerships with global partners, which have suffered from the loss of trust and credibility. In Africa this has fuelled perceptions that the EU fails to keep its promises and often employs double standards. The Union must also rekindle its partnerships with Latin America, a like-minded region with a great strategic potential for the EU. To achieve this, it needs to engage in genuine dialogue and consultation with partners, adopt differentiated approaches, offer attractive technical propositions and leverage the multilateral system. It must also pay special attention to certain key thematic areas, such as governance, global health and food security.
There is a certain fragmentation and cacophony of approaches and tools that hinder the EU's capacity to engage in effective development delivery. Although Team Europe Initiatives and the Global Gateway are steps in the right direction, they should be combined with coordination and consultation –among member states and with partners– for the EU to act with unity and coherence on the ground. Addressing concerns regarding who bears the financial and human transaction costs to fully unlock the potential of the Team Europe initiative is thus essential.
The EU needs to invest in a powerful narrative and a sophisticated communication strategy that highlights its comparative advantages and increases its visibility, in order to present itself as a reliable and attractive partner. It also needs to build the necessary knowledge to engage with partners with realism and work with all actors, not only central governments
All of these elements need to be strengthened in conjunction with a renewed approach to the EU's foreign policy that balances its values-based mentality with a pragmatic way of working. The Global Gateway seems to be going in that direction as a tool to compete with other geopolitical actors in the developing world, but it needs to be sufficiently owned by partners and fully implemented in a way that delivers tangible results, as well as being better communicated internally and externally to realise its value.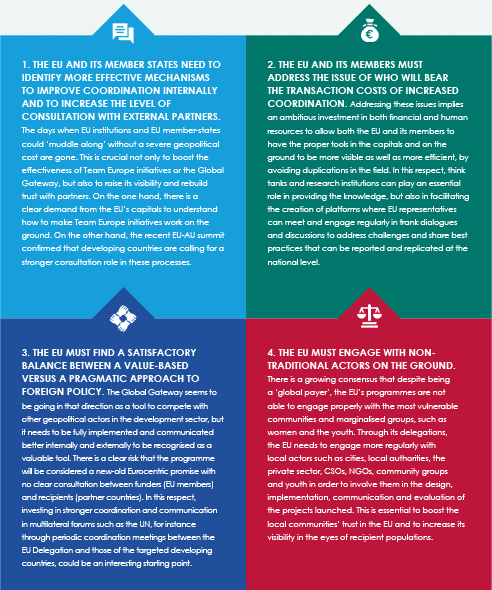 Acknowledgements: The authors wish to thank Ina Friesen (IDOS) and Andrew Sherriff (ECDPM) for their kind support in the revision of this report.
(*) Originally published in the European Think Tanks Group (ETTG) website.