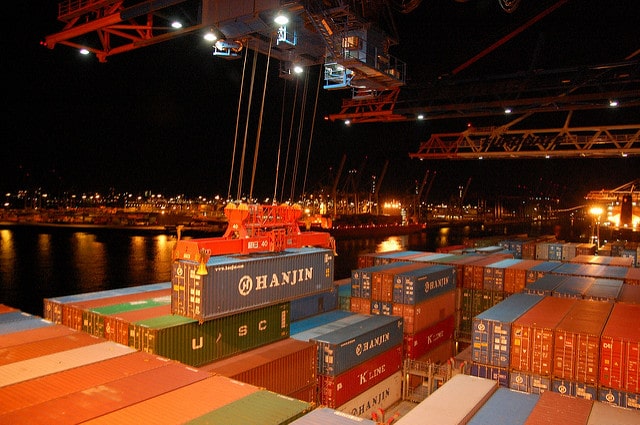 Although the world has not emerged unchanged, given the oddly lethargic 'recovery' –we may indeed have entered what Larry Summers has dubbed 'secular stagnation'–, the Great Recession that began in 2008 has passed and gone without having seen a major wave of protectionist measures, in contrast to the events of 1929-31 that aggravated the Great Depression. On the other hand, perhaps there has been a rise in protectionism that we have chosen not to acknowledge. Recently, both protectionist voices and measures have been on the increase. According to a report from the NGO Global Trade Alert, in the first eight months of this year 350 protectionist measures were introduced in the world, a fourfold increase on 2009 (although all together there have been more than 6,200 since then). Such measures consist not solely of tariffs and quotas –although these persist– but also take other, less conspicuous, forms such as labelling and encryption.
But protectionism is not the main reason why growth in global trade is slowing down. It stalled last year, and this year the World Trade Organisation (WTO) expects it to grow by only 1.7%, in other words less than global GDP for the first time in 25 years. This is mainly due to lower demand, in large part stemming from changes in the Chinese economy and from slower European growth. This has led to the collapse of some container shipping companies, such as the Korean firm Hanjin, knocked out by the fall in world trade. Images in mid-September of vessels laden with containers in the Atlantic, Pacific and Mediterranean, unable to dock on account of bankruptcy, provided a graphic illustration of deglobalisation or, strictly speaking, of the slowdown in globalisation. Precisely, the standardised shipping container, invented in 1956 by the American Malcom McLean, has been an essential component of globalisation in recent decades. And, incidentally, almost all containers (97%) are manufactured in China.
Although protectionism is not the cause of the global slowdown, it is certainly worrying and could impede general growth. It has its reflection in politics, for instance in the 'Buy America' policy promoted in the US, whereby federal and state governments give priority to purchasing domestically-manufactured goods (Donald Trump goes even further with his 'America First' policy). It is also reflected, albeit for different reasons, in the problems that regional trade deals have run into: between the EU and Canada (CETA) and the US (TTIP, trade and investments), between the latter and other Pacific countries (TPP), and in the row with China about subsidising exports of its surplus steel. All this comes against the backdrop of the wider failure of the WTO's liberalising Doha Round. The President of the European Council, Donald Tusk, has already warned that CETA 'could be the UE's last free trade treaty'.
Meeting in Hangzhou, China in September, the G20 launched a call for more economic growth, which included boosting world trade and fighting protectionism. But protectionist measures proliferate, and they are not always entirely obvious, since they affect the digital economy. The Great Firewall that China (but not only China) has constructed for political reasons to restrict Internet access is also useful as a protectionist measure: what is known as 'digital protectionism'.
Trade is not everything, and many emerging economies, with China and India at the forefront, prefer to make or learn how to make many advanced products rather than import them. This is one of the reasons that foreign direct investment (FDI) has recovered much faster than trade. In its World Investment Report released in June, the UN Conference on Trade and Development (UNCTAD) reported that FDI had leapt in 2015 to its highest level since the start of the crisis (38%, more than half in the form of cross-border acquisitions and mergers), reaching US$1.76 trillion, but warned of a 10%-15% contraction in these flows in 2016 due to the fragility of the global economy and geopolitical risks, although it was forecast to recover in 2017, reaching US$1.8 trillion in 2018.
In fact, the governments that make up the G20 endorsed the nine Guiding Principles for Global Investment Policymaking in July, which demonstrates the importance it has gained relative to trade. The Principles are very broad, however, and the sixth states that 'governments reaffirm the right to regulate investment for legitimate public policy purposes'. And this is just what they are doing. As the Global Trade Alert report, mentioned above, notes, since November 2008 the G20 governments have introduced more than 150 reforms to encourage FDI, but have taken almost as many steps to impede it. It therefore remains to be seen how the nine principles are applied in practice.
Germany is taking steps to protect its high-tech enterprises, especially those that are wholly or partly state-owned, from being snapped up by foreign capital from outside the EU, particularly China. This follows the recent acquisition of Kuka, one of Germany's largest robotics companies, by the Chinese company Midea –enabling the German company to increase its exports to Asia's largest economy– and attempts by San'an Optoelectronics, a Chinese chip-maker, to take over Osram. Even investments are not immune to the new protectionism.