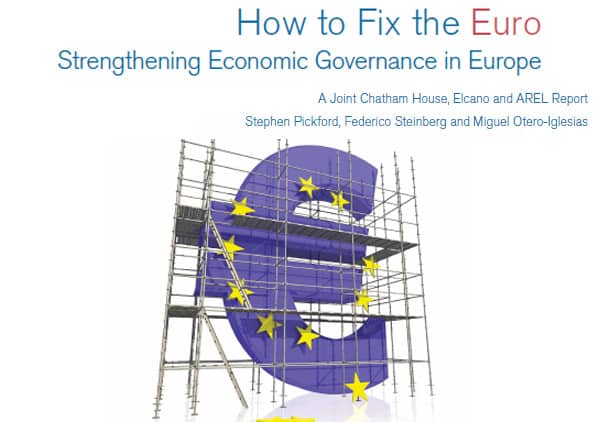 The latest Global Go To Think Thanks Report released by the University of Pennsylvania has ranked the joint Elcano-Chatham House-Arel Report 'How to Fix the Euro: Strengthening Economic Governance in Europe' as number two in the world for 2013-2014. As two of the co-authors, we are pleased to see that our work has been widely read and recognized by our peers. We also hope that our analysis and advice has been useful to policy-makers. The full report is available here and you can also watch the video of its Madrid presentation here.
Since its publication in April 2014, some things have improved in the Eurozone: a new (and strong) Commission has been elected, an ambitious investment plan has been launched and the ECB has finally announced a Quantitative Easing program, which, among other things, is depreciating the euro. However, some new problems have appeared. Persistently high levels of unemployment in the southern countries, increasing risks of deflation, growing debt levels and the rise of anti-European sentiment will have to be addressed.
We still believe that the proposals put forward in our report would greatly contribute to make the euro truly sustainable in the long run. Here are its ten key policy recommendations, but if you really want to know how to fix the euro, just read the full report!
The experience of the crisis shows that, in order for EMU to function effectively, there needs to be greater fiscal, financial and economic integration within the euro area to match the degree of monetary integration.
The euro area needs a single central fiscal authority with its own source of revenues, the ability to issue debt, and the capacity to make ongoing fiscal transfers within the euro area. This authority (headed by the president of the Eurogroup – in effect the economic and finance minister for the euro area) should also be responsible for monitoring national fiscal positions, and enforcing the fiscal rules. It would also set the overall fiscal stance for the euro area as a whole, and debt issued centrally would be joint liabilities of all euro area members.
There needs to be a single financial rule book, and common mechanisms for supervising all euro area banks (both big and small), resolving failing institutions and guaranteeing deposits. Some of these are currently being put in place. But there also needs to be further progress on putting in place a single resolution mechanism and common deposit guarantee mechanism. Progress on these is being held up because of a failure to agree on how the costs would be divided.
The single resolution mechanism needs to have a credible financing structure. With bank liabilities in the euro area totalling over €30 trillion and given the possibility of large bank failures, both the resolution mechanism and the common deposit guarantee system need to have a clear fiscal backstop, ultimately provided by the central fiscal authority.
Positive incentives need to be put in place for countries to undertake difficult structural reforms on an ongoing basis, so that their economies are flexible and innovative enough to live within a single monetary area. The single fiscal authority could provide finance for country-specific reforms that are essential for the area as a whole. Contracts between countries and European institutions to provide financial resources for structural reforms could provide the right incentives.
There need to be effective processes to coordinate monetary, fiscal, financial and structural policies – and the institutions responsible for them – across the euro area:

a regular dialogue between the central fiscal authority and the ECB;
close coordination between the ECB and the ESRB (as well as the central fiscal authority) on macro-prudential policies;
coordination by the Eurogroup of overall economic policies (both national and euro-area-wide), backed up by regular economic summits of euro area leaders.

The ECB needs to be able to act as the unconditional lender of last resort for sovereigns in exceptional circumstances as well as for euro area banks.
These reforms will require new institutions, and changes to the mandates of existing institutions. Creation of a central fiscal authority and changes to the ECB's mandate will be particularly challenging to reach agreement on.
The centralization of powers and resources that this greater level of integration involves will require a greater degree of political union, to provide democratic legitimacy and accountability. These proposals imply a profound transfer of sovereignty from member states to European institutions, and go beyond what has been proposed so far.
Treaty change is ultimately the only realistic path to greater legitimacy and a more symmetric union. However, the last ratification process has left many countries reluctant to go down this path.