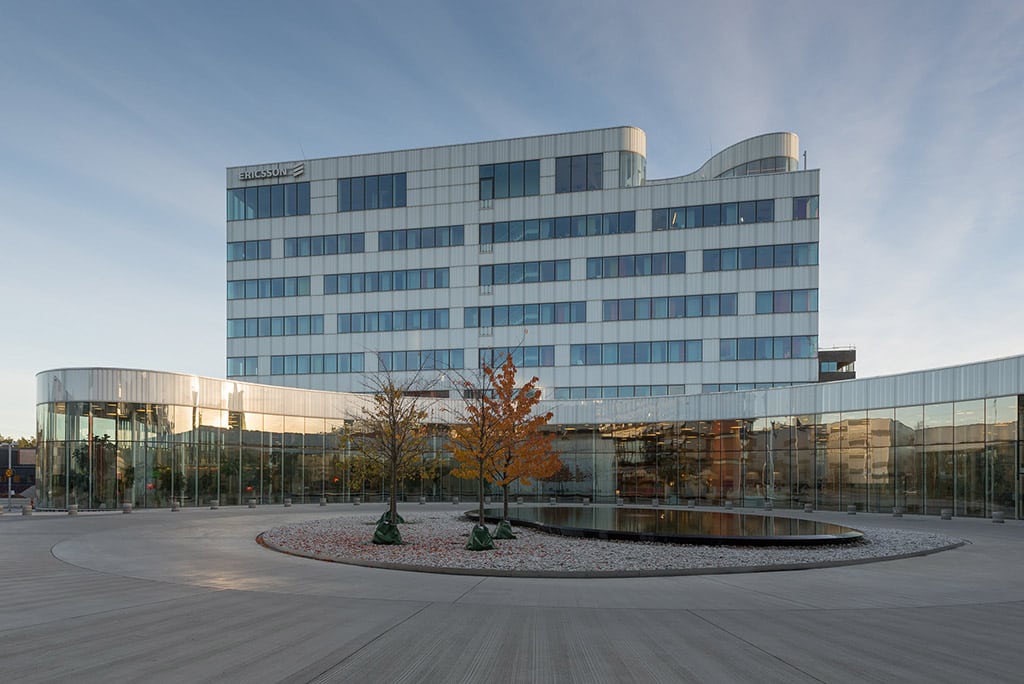 The past months, dominated by news about the current trade and tech war between the US and China, have generated a strong public perception in Europe that the Old Continent has dropped behind China and the US in 5G, the key technology for the Internet of things (including self-driving cars) and therefore the basis for the next phase in the digital revolution we are experiencing.
The mantra I keep hearing from many Spanish and other European policymakers, business leaders, pundits and analysts (and that I have internalised myself) is that China, and Huawei in particular, are far ahead of 'us' in this field. Thanks to the financial muscle of the Chinese state, they began to invest in this technology 10 years ago and they are now the world leaders. Almost in the same breath, people add that the US is not far behind because President Trump has already launched a national plan for the deployment of 5G for the whole country, making Europe look even more of a laggard.
In the same vein, talking to the people from telecommunication networks like Vodafone and Telefónica the answer one tends to get is that Huawei's 5G equipment is better and cheaper than the Western alternatives. That is why European operators –like Vodafone, which will roll out its first 5G services in Spain this coming weekend– tend to rely on Huawei. The argument seems to be backed by the evidence: Huawei claims it has more 5G-related patents than anyone else in the sector (see Figure 1 below).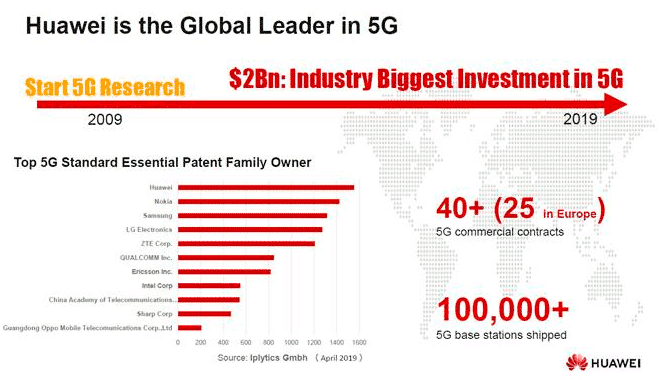 That is the standard story, and I, like many others, have bought it. However, I recently came across the counternarrative of Ericsson, Huawei's main competitor, and I began to change my mind. According to Börje Ekholm, Ericsson's President and CEO, the idea that Huawei is leading the sector is highly questionable. In his own words:
'There is a myth that we are behind in 5G roll-out and 5 technology. Of course, another definition of a myth is something that is not true. The documented fact is that our technology is commercially live with customers who have launched 5G services. We're live with multiple operators in the US and Korea, and in Europe we're live with Swisscom, the first to launch in the region. Our Swisscom partnership is a nationwide sole-supplier partnership. It targets 90 percent 5G population coverage by the end of the year with the support of our spectrum sharing, which reuses existing 4G bands. These are quite simply indisputable facts. It's impossible to be behind in 5G when there is no-one in front of us' (emphasis added).
Bold words indeed. But they seem to have solid support. Does anyone really think that the main Swiss operator, Swisscom, with its deep pockets, would go for second-best 5G technology for its country-wide coverage? I doubt it very much. I even checked whether Huawei was banned from Switzerland for geopolitical reasons due to US pressure and that does not seem to be the case. Rather, the picture that emerges from this preliminary research is that Ericsson is as advanced, or even more, in 5G technology than Huawei; it is simply that its services are more expensive.
In fact, Ericsson claims that patent filing is not the same as patent ownership after patent granting. All network providers are now submitting many patent applications and standardisation papers for 5G under the so-called 3GPP framework, but it will take years to know which of the proposals will be approved in order to know who the technological leader is. But even so, in a report published in October 2018 titled 'Estimating the future 5G patent landscape', Ericsson provides preliminary evidence suggesting that it is ahead of its competitors (see Figure 2 below).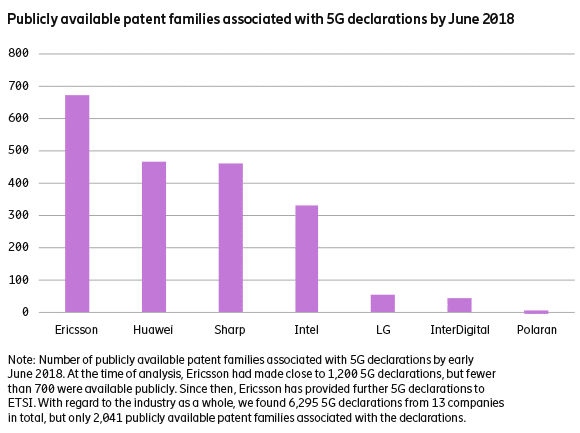 Considering this information, one wonders why it is that everyone believes Huawei is in the lead. There are several reasons. The PR and media campaign launched by Huawei is aggressive and effective, and Trump's obsession with the company has only served to raise its profile further. Huawei is also far flashier and more modern than good old –but rather dull– Ericsson, which does not have any cool smartphones. People from the industry also mention that Huawei frequently invites journalists to events and trips, giving them Huawei gear as souvenirs, thus influencing their reports. Ericsson's internal policy strictly bans such gift-giving.
Finally, the operators themselves might have an intrinsic interest in inflating Huawei's technological capacity. Without Chinese competition Ericsson would be too dominant, hence the networks need to use the Huawei alternative in order to negotiate lower prices. This might explain why GSMA, the telecoms lobby group, has issued a report warning that if Chinese firms are banned from Europe's 5G networks the cost of providing the service would be US$62 billion higher and come 18 months later.
The fact is that if Chinese companies are excluded, the only players in the 5G game are European, and this is precisely what is happening in the US. Yes, you have read correctly. As of now, and as reported by the NYT when explaining Trump's national plan: 'there are no American suppliers for the main switching networks, meaning that the American systems will largely be built by firms like Nokia and Ericsson, both European'. So much for Europe being behind the US in 5G.
Nonetheless, building the infrastructure is one thing, which is wonderful, but as we are all well aware, in today's world what brings in the big money is the software and not so much the hardware. That is where Europe needs to catch up. So far, the leading beneficiaries of the Internet and the smartphone era have been US digital platforms like Google, Facebook, Amazon and Airbnb, and also their rising Chinese counterparts such as Alibaba and Tencent. It remains to be seen what will happen in the phase of the Internet of Things (IoT). Will the Europeans be in the lead at building the physical infrastructure, but with monetisation in the hands of the US and China? It certainly looks that way, but then 5G is only just starting now, and after 5G there will be 6G and 7G and so on. Who knows who will be in the lead then?