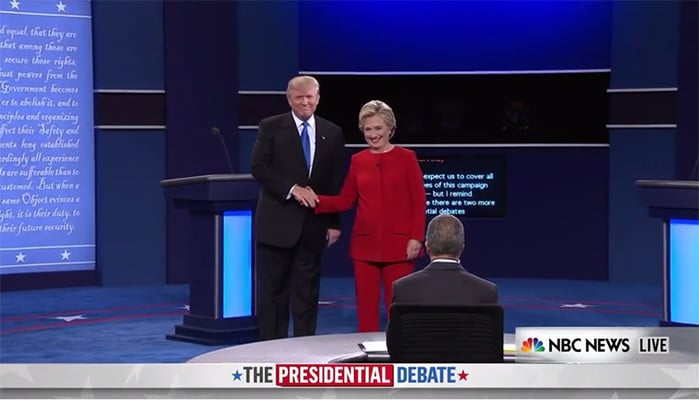 The polls had been tightening all through the month leading up to last night's US Presidential Election Debate at Hofstra University in New York between Hillary Clinton and Donald Trump, the respective Democratic and Republican Party nominees. On the eve of the debate, Clinton's peak August 9th lead of 7.6 percentage points (pp) had fallen to only 1.6pp in the average of the national polls in a four-way race including the third party candidates, Gary Johnson (Libertarian) and Jill Stein (Green). What is more, Clinton's once commanding lead in the all-important Electoral College –as high as 117 votes in mid-August– had fallen to a very thin margin only 23, with 185 votes now up for grabs in an increasingly large number of key 'swing states' which are either too close to call, or within the margin of error.
The influence of the presidential debates on the final election outcome, historically, is generally considered to be either minimal or temporary. Often the debates only add a couple of percentage points to a trend which began before the debates take place. However, there has been much discussion of the uniqueness and unpredictability of this particular presidential election, given the nature of the candidates, and the relatively high number of voters declaring third party preferences or who remain undecided.
On the one hand, Clinton is the first woman to be the nominee of one of the major parties, and has a long career in public affairs; on the other hand, Trump is probably the most controversial presidential candidate ever, and the only one to have such extensive personal international business dealings. Neither candidate is universally well-liked: the net favorability rating (those with a favorable impression minus those with an unfavorable one) has been negative for both throughout the campaign, only the nearly 20pp relative margin that Clinton enjoyed in mid-August had collapsed to only 7pp on the day of the debate.
Going into the debate, Clinton's strengths were considered to be her strong policy command and long public experience. Her weaknesses were her perceived evasiveness (even dishonesty), along with a lack of a touch for connecting with common people. Trump's strengths were his directness, his unrelenting attack on the status quo, and his proof-is-in-the-pudding business success; his tendency to be loose with the facts and ignorant of most policy realms, his bombastic and aggressive demeanor, and the widespread perception that he is something of a charlatan, were his greatest weaknesses. Much of the pre-debate commentary focused on the need for Trump to moderate his bearing, appear calm and in control, and to not lose his cool; the recommendation for Clinton was to avoid falling for Trump's baiting, to press him hard on policy specifics, and to box him into a situation in which he would be revealed to all as ill-prepared for the presidency.
In terms of performance, neither one knocked the other out; nor did either provoke the other into losing their cool, or control, at least not noticeably. But Trump was yelling out (or close to yelling) his answers within 15 minutes, and disregarded the indications of the moderator and the established protocol. Indeed, according to one tabulation Trump interrupted Clinton and seized the floor from her at least three times, while he interjected brief comments over her while she was speaking on 24 occasions. Clinton came close to sneering at Trump on a few occasions, but she never fully interrupted Trump and only on five occasions did she say something while Trump was speaking. Trump did not stumble noticeably, at least not in any new way. On the other hand, Clinton completed most of the sentences that she started; at times it was difficult to follow Trump simply because he often did not complete his.  In the end, Trump did not collapse, and Clinton successfully held the line.
The debate was divided into three segments on the economy; domestic affairs, including race relations and the justice system; and security and foreign policy. Clinton equated Trump's tax plan as a farcical rerun of 'trickle down' economics. Trump retorted that it was time to have someone in the White House who knew something about money. Hillary suggested that Trump was hiding something by refusing to release his tax return; Trump claimed that he would 'release,' but only once Clinton had released the 33,000 emails she deleted from her private server. When Clinton pressed him further, suggesting that he was hiding the fact that he had paid very little, or even no federal income tax, the man known as 'The Donald' replied: 'That makes me smart.' To Trump, all of Clinton's experience was 'bad experience.'
When asked about his previous comment that 'Clinton doesn't have a presidential look,' Trump claimed that what he had really said was that she does not have the necessary 'stamina' to be president. Clinton's response:
"As soon as he travels to 112 countries and negotiates a peace deal, a cease fire, a release of dissidents, an opening of new opportunities in nations around the world, or even spends 11 hours testifying in front of a congressional committee, he can talk to me about stamina."
Interestingly enough, Clinton made only 6 state specific references. Trump, on the other hand, made 19 state specific references, with a considerable focus on key swing states now in play (including two to Florida, three to Michigan, three to Ohio and two to Pennsylvania).
Clinton won the debate on points. After having hovered around 80%-20% for most of August, the live 'betting odds' tracked by Real Clear Politics had been falling all through September. Yesterday, just before the debate, the odds in Clinton's favor briefly dropped to 65%-35%, the lowest since May 27th. However, as soon as the debate finished, RCP's odds began to rise again and were at 70%-30% by 9am this morning in Madrid. The financial markets themselves reacted positively, if mildly; but the Mexican peso, these days taken as a proxy for the probabilities of Trump losing, rose, while safe haven assets, like gold, that thrive on uncertainty, lost ground.
The second presidential debate is scheduled to take place on Sunday night, October 9th at Washington University in St. Louis.