Venue: Torre CEPSA. Paseo de la Castellana 259A, Madrid.
The Spanish Committee of the World Energy Council (WEC), in collaboration with the Spanish Energy Club and the Real Instituto Elcano, and with the sponsorship of Cepsa, is holding its traditional annual international event on October 26, 2022.
The 2022 edition will focus on the geopolitical, energy and climate impacts of the current crisis in Europe and its possible solutions. We will be honored to have the participation of the Third Vice President of the Spanish Government and Minister for Energy Transition and the Demographic Challenge, Teresa Ribera.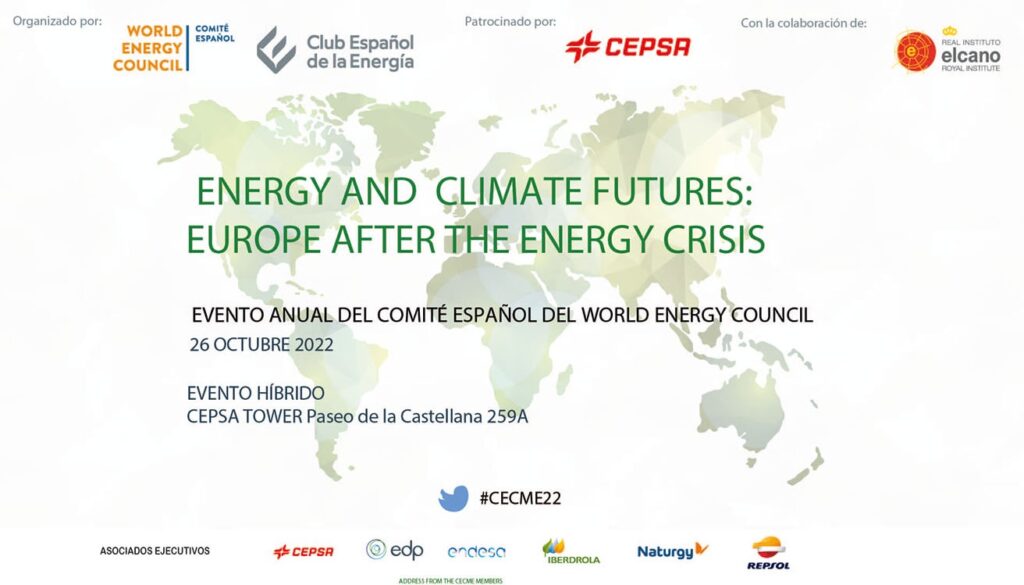 Programa:
11:00 – 11:20: Welcoming session and initial messages:
Iñigo Díaz de Espada, Chairman, Spanish Commitee of the World Energy Council (CECME)
11:20 -11:40: Plenary session I: The new role of the energy in the EU foreign policy
Tibor Stelbaczky, Principal Adviser for Energy Diplomacy Global Agenda and Multilateral Relations, European External Action Service (EEAS)
11:40- 13:00: Round table: Military conflict in Europ: Impacts and coping with them
Moderator:
Marta Villar Ezcurra, Professor of Financial and Tax Law, University CEU San Pablo
Speakers:
Ana María Sánchez, Infante Policy Officer Energy Platform Task Force (EPTF) European Commission
Marc-Antoine Eyl-Mazzega, Director Energy and Climate Centre, French Institute for International Relations (IFRI)
Carlos Fernández, Acting Head of Gas, Coal and Power Markets Division, International Energy Agency (IEA)
Alexandre Affre, Deputy Director General, BUSINESSEUROPE
13: 00 – 13:30 PLENARY SESSION II: THE FUTURE OF THE CLIMATE CHANGE INTERNATIONAL NEGOCIATIONS
Moderator:
Íñigo Díaz de Espada, Chairman, Spanish Commitee of the World Energy Council (CECME)
Speaker:
Sarah Henry, Second Secretary, Embassy of Arab Repulic of Egypt, Madrid
Cristina Peñasco, Lecturer, Department of Politics and International Studies, University of Cambridge
13:30 – 14:00 CLOSING SESSION AND CONCLUSIONS
Maarten Wetselaar, CEO CEPSA
José Juan Ruiz Gómez, Chairman, Elcano Royal Institute | @ElcanoJjRuiz
Mario Ruiz-Tagle, President Spanish Energy Club
Teresa Ribera Rodríguez, Third Vice-President and Minister, Ministry for Ecological Transition and Demographic Challenge
Hashtag: #CECME22
The event will be held in Spanish and English with simultaneous translation
Please, register here