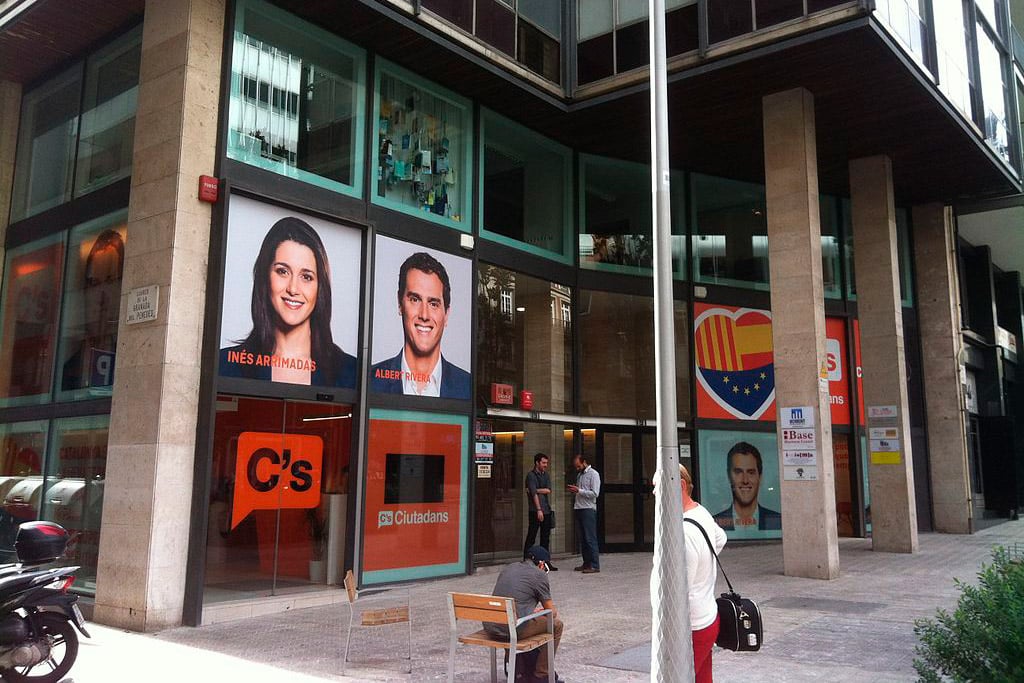 Ciudadanos (Cs) is a rara avis in Spain's fragmented and polarized political scene. It started as Ciutadans de Catalunya, a civic platform, in Catalonia in 2006 to combat the region's independence movement; became a party winning three of the 135 seats in the Catalan parliament that same year; entered the national parliament in Madrid in 2015 with 40 of the 350 seats; won 36 seats in Catalonia in 2017 (the largest of any party, see Figure 1) and 21 in the Andalusian parliament in 2018; increased its seats in Madrid to 57 in April 2019 (see Figure 2) and in the November general election plummeted to just 10, resulting in its leader, Albert Rivera, quitting politics at the early age of 40.
Few parties have begun with such success and fallen so hard in Spain as Ciudadanos except for the Union of the Democratic Centre (UCD) of Prime Minister Adolfo Suárez, formed in 1977 to contest Spain's first democratic elections since before the 1936-39 Civil War and oversee the transition, and dissolved in 1983. The UCD, a loose alliance of 16 disparate parties, saw its seats in parliament fall from 165 to 11 in 1982.
Figure 1. The rise of Ciudadanos in Catalan elections, 2006-2017 (% of votes and seats)
| | 2006 | 2010 | 2012 | 2017 |
| --- | --- | --- | --- | --- |
| Percentage of votes | 3.0 | 3.4 | 7.6 | 25.4 |
| Number of seats out of 135 | 3 | 3 | 9 | 36 |
Figure 2. The rise and fall of Ciudadanos in general elections, 2015-2019 (% of votes and seats)
2015
2016
April
2019
November
2019
Percentage of votes
13.9
13.0
15.8
6.8
Number of seats out of 350
40
32
57
10
Rivera's experience, recounted in a kind of political memoir (Un ciudadano libre, published by Espasa) would seem to show there is no room in Spain for a liberal and centrist party, sorely though it is needed.  Such parties have historically had little success in Spain, even though the word liberal, as a political label, originated during the (short-lived) 1812 Constitution of Cádiz.
Ciudadanos, like Podemos which also entered parliament in 2015, sought to create a transversal party, drawing supporters from across the right-left political dichotomy, which Rivera believes no longer functions, or in his own words: "Neither reds nor blues." The party sought to represent the 'third Spain' as a king maker between the Popular Party and the Socialists, the two parties that have alternated in power for almost 40 years.
Podemos, however, was always a far-left party (currently, as Unidas Podemos, the junior partner in the Socialist-led minority coalition government after linking up with the former Communist party Izquierda Unida), while Cs nobly sought to carve out a middle way until it shifted rightward in the November 2019 election, with disastrous results.
Rivera is proud of Cs spending more time striking deals with the PP or with the Socialists, particularly at the regional and municipal level, than any other party since 2015, a period which has seen four inconclusive elections in as many years. It is also virtually the only national party that has paid back its bank loans and at market interest rates instead of having its debts condoned.
He and the Socialist leader Pedro Sánchez agreed a battery of measures and much needed reforms in February 2016 after the December 2015 election which could have produced a minority government, albeit with only 130 of the 350 seats, and parliamentary support from other parties. But it did not prosper in the investiture vote because of opposition from the PP and Podemos.
Rivera then switched support to the PP. He could have become Deputy Prime Minister in the PP government of Mariano Rajoy finally formed in October 2016, 351 days after the 2015 election and two days before the automatic triggering of yet another election. The PP was able to stay in power thanks to the support of Cs and the abstention of some Socialist MPs in the investiture vote. But Rivera did not feel at all comfortable working for a government embroiled in the ongoing Gürtel and Bárcenas corruption cases, and that he would be expected to defend the PP. Combating corruption and regenerating democracy are among Cs' flagship policies.
He was proved right: Luis Bárcenas, the PP's former treasurer, was given a 33-year jail sentence in May 2018 after he was convicted of receiving bribes, money laundering and tax crimes.  He was among 29 officials and businessmen who received sentences.
That case sparked a Socialist-led censure motion against the PP, which brought Pedro Sánchez to power with the support of Podemos, Basque nationalists and Catalan MPs in favour of independence for the region, and the opposition of the PP and Cs. It was also the end of Rivera's attempts to forge a pact with Sánchez.
Rivera recounts how he belatedly became convinced that Sánchez all along wanted Podemos on his side and not Cs, although the two parties are ideologically not very far apart. This, and nipping at the PP's heels in the April 2019 election, when Cs won only nine seats fewer than the PP, convinced Rivera in a fit of hubris that Cs could overtake the PP in the November 2019 election.
Had Cs and the Socialists resurrected after the April election the pact they made in 2016, the two parties could have formed the stable and reformist government (with an absolute majority of 180 seats) that Spain badly needs.
Ciudadanos lost credibility and left voters confused. It lost 2.5 million votes in the November election: 800,000 to the PP, and 700,000 to the far-right VOX, which more than doubled its number of seats to 52, and one million previous Cs voters stayed at home.
Where does Cs go now? Inés Arrimadas replaced Rivera as the party's leader. Her shift back toward the centre seems to be paying off as, according to the latest survey by the state-funded CIS, Cs is the only party whose support is higher than in the last survey.
If elections were held today, Cs share of the vote would rise from 6.8% to 10.6%. Perhaps enough to be the kingmaker in forming the next government.