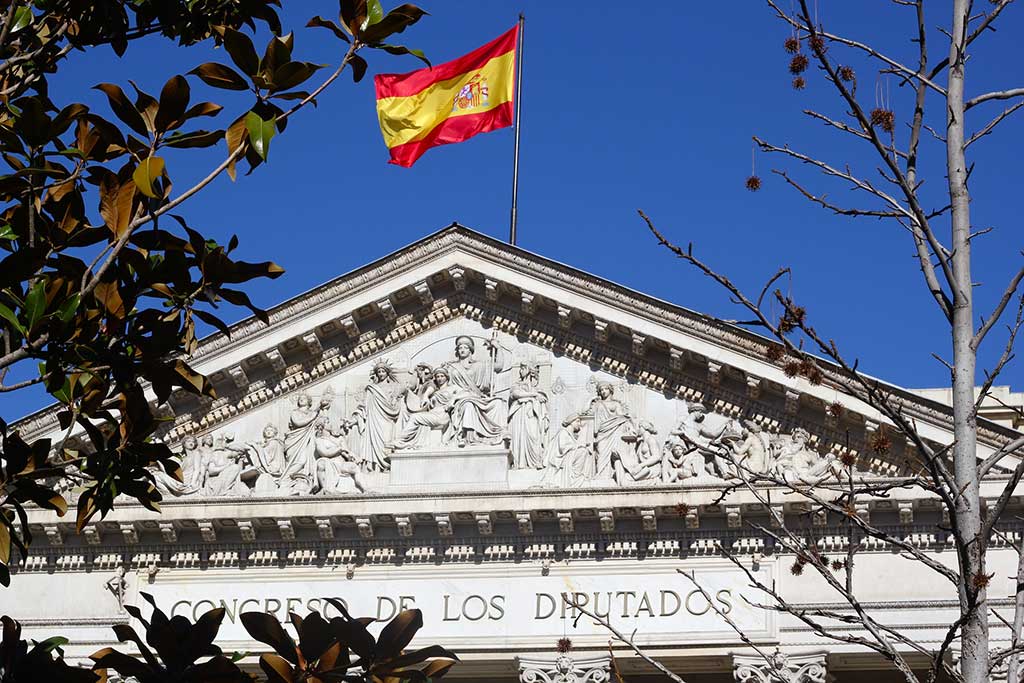 The Bank of Spain's sensible call for a broad political agreement lasting several legislatures on measures to meet the enormous economic challenges, as a result of the devastating impact of COVID-19, looks as if has fallen on deaf ears even before getting off the ground.
Two days after Pablo Hernández de Cos, the Bank's governor, made his plea in parliament on 18 May the minority left-wing coalition government won sufficient backing to extend its state of emergency, including tacitly from the pro-Basque independence party EH Bildu in return for completely scrapping the 2012 labour market reforms of the conservative Popular Party.
So much for negotiating with all economic agents and achieving a consensus, which would give Spain credibility in markets. And, it subsequently turned out, the abstention of Bildu's five MPs was not even needed, as there were enough 'yes' votes to get another extension over the line.
The CEOE employers' federation lambasted the deal for having a 'profoundly negative impact on jobs'. The reforms, which cut severance pay and gave priority to company-level rather than sector-wide negotiations, are credited with strengthening Spain's recovery from the 2008 global financial crisis and helping to create 2 million jobs, albeit many of them temporary.
Nadia Calviño, the Economy Minister and the guardian of orthodoxy in the government (she is a former EU Director General for Budget), was also not happy. The government issued a 'clarificatory note' with less sweeping language in an attempt to calm employers. She said that taxpayers paid politicians to solve problems not create new ones.
Successive Spanish governments have been particularly prone to overturning the reforms of their predecessors, particularly in the areas of labour market, education, taxes and town planning. For example, governments in the last 40 years have passed more than 50 labour market reforms of one sort or another, apparently a world record.
'The labour market is exhausted with so many reforms,' says Marcos Peña, a former head of the Economic and Social Council. 'And sick of every political swing entailing a labour-market reform. All this to-ing and fro-ing of reforms and counter-reforms simply brings in its wake a jittery labour market, in expectation of solutions, always mid-way to somewhere.'
Spain is in a particularly vulnerable position for four reasons.
First, Spain's economy went into the COVID-19 crisis in a weak state: the fiscal deficit was 2.8% of GDP in 2019 (it took a decade to get it below 3%, the EU's threshold now discarded), a worse starting position than other EU countries, public debt reached 95.5% of GDP and unemployment was 14%.
Second, the weight of the crisis-hit sectors, particularly tourism (12% of GDP and 13% of jobs), is greater in Spain than in the other big euro zone countries (Germany, France and Italy). The social distancing measures have acutely affected the sectors related to hotels, restaurants and leisure. Overall, the sectors most affected by the pandemic account for around 25% of GDP.
Third, the corporate structure has a comparatively higher weight of SMEs than most other euro economies: in 2019 90% of companies had fewer than 10 employees, compared with 75% in Germany. As a result, firms are more vulnerable to the loss of income as a result of the COVID-19 crisis, as they have less access to external financing and higher overheads relative to turnover.
Fourth, the pandemic crisis has once again sharply highlighted that, as in previous recessions (GDP shrinkage this year is put at around 9%), job destruction falls disproportionately and unfairly on temporary employees (more than one-quarter of jobholders). These workers can count on very little protection once their contract expires, unless exceptional steps are taken.
The EU's special recovery fund will not be a panacea and without reforms will be wasted. Consensus is vital, but politics is bitterly polarized and fragmented (16 parties are represented in parliament), and the discourse is little more than insults.
The most immediate challenge is to forge an agreement on the budget for 2021. The fiscal deficit is forecast to surge to 10% of GDP this year as a result of massive spending on measures such as healthcare, the temporary lay-off arrangement known as ERTE benefiting some 3.4 million people, unemployment subsidies (the jobless rate is forecast to reach 20%) and the cost of deploying a minimum living income plan, while revenue is plummeting.
The 2018 budget is still in force, as it was rolled over in 2019 and this year, because of the lack of agreement on new budgets. If parliament rejects the draft 2021 budget, as happened in February 2019, it could trigger an early election –the fifth in five years.
Clearly, taxes have to rise. Spain's tax burden at 35.4% of GDP is much lower than the EU average (see Figure 1), although marginal personal tax rates are similar to the bloc's average. The problem lies with the effective tax rates for individuals and companies because of exemptions, deductions, rebates and loopholes, as well as fraud.
Figure 1. Tax-to-GDP ratio, 2002, 2007 and 2018 (1)
| | 2002 | 2007 | 2018 |
| --- | --- | --- | --- |
| France | 44.1 | 44.5 | 48.4 |
| Italy | 39.7 | 41.5 | 42.0 |
| Germany | 39.6 | 39.3 | 41.5 |
| EU | 38.6 | 39.2 | 40.3 |
| Portugal | 33.9 | 35.0 | 37.2 |
| Spain | 34.1 | 37.3 | 35.4 |
| United Kingdom | 33.2 | 35.0 | 35.1 |
| Ireland | 29.1 | 32.1 | 23.0 |
The Popular Party's tax reductions approved in 2014, at a time when the structural deficit had not been corrected and the country was coming out of its last recession, was demagogic. That deficit (not related to cyclical factors) at the outset of the pandemic crisis was still high at around 3% of GDP and will rise. The demand for healthcare expenditure will be greater, spending on pensions will increase due to the combined impact of an ageing population and the suspension of the application of the revaluation index and the sustainability factor, and the minimum living income is an extra cost.
Social expenditure is highly oriented in Spain towards the elderly. Family benefits in Spain are the lowest in the EU, and tax deductions are of limited advantage. Pension spending is set to rise significantly if the departures from the 2013 pension reform become permanent and no adequate compensatory measures are taken, the European Commission warned in its latest report on Spain.
The education system, with an early school leaving rate of 17.3% (30.3% in 2006 at the peak of the economic boom), still the EU's highest, is another political football that is constantly kicked around by governments, to the despair of parents, and in need of a lasting pact. Reforms have made little difference. A particularly weak area is vocational training (VT), especially in a country with seasonally adjusted youth unemployment rate of 30% before the pandemic crisis. According to the OECD, 33% of students in Spain in 2018 were VT qualified compared to an EU average of 46%, despite the country having double the proportion of students whose formal education ended at 16 (40% against 19%).
Last but not least, the pandemic has exposed the longstanding shortcomings of an underfunded justice system bogged down by mountains of paperwork, antiquated technology and long delays before cases come to trial (up to 10 years in some cases), and which will be deluged when life is back to some kind of normality.
In short, these problems can be better tackled with cross-party, long-term agreements. Spaniards deserve better of their politicians.