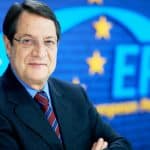 Nicos Anastasiades, the new president of Cyprus, divided since the Turkish invasion of the island in 1974 following a Greek-inspired coup, was the only prominent politician who voted in favour of Kofi Annan's Plan in the 2004 referendum to reunify the country when he was head of the conservative Democratic Rally party. Does this spell a glimmer of light in the tunnel of resolving one of the world's longest-running and intractable problems?
Anastasiades, who defeated the Communist-backed Stavros Malas, has inherited an economy on its knees, due to some extent to the knock-on effect of Greece's woes, and negotiations with the pro-independence Turkish Cypriot leader Dervis Eroglu during the presidency of the Communist Dimitris Christofias got nowhere. Christofias publicly urged a 'no' vote in the UN-inspired referendum, which resulted in it being massively rejected by 76% of Greek Cypriots (accepted by 65% of Turkish Cypriots in the northern end of the island).
Sorting out a bailout of the economy with Eurozone finance ministers is top of Anastasiades's agenda, and a deal will be attempted at today's meeting in Brussels, though deep divisions remain.
Anastasiades needs the centrist DIKO on board to get the economy sorted out, but once he has a EU deal there is nothing to stop him kick-starting negotiations. He has said he wants to involve Turkey and the EU in negotiations from the beginning. If this means they can clarify security (the main concern of Greek Cypriots) and perhaps territory early one it might open up Greek Cypriots for a deal.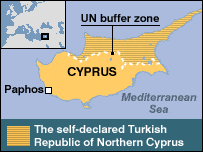 In the previous negotiations the Greek Cypriots felt that they were doing all the giving on governance and not getting anything to show on territory/security because those issues are normally handled at the end. But you can't get to
the end until you nearly have a deal on domestic issues such as governance so it was a Catch 22.
Anastasiades is also more open to ideas from the UN, which is increasingly frustrated at the lack of progress, than Christofias. He didn't like shuttle diplomacy, even though (or precisely because?) this was more effective than the
repetitive face-to-face theatre of the leaders' meetings. Anastasiades is also talking about a model that reduces the number of areas in which the two sides have to agree. As the two sides have lived a long time apart and are worried about the costs of a potentially unwieldy multi-level government, it might prove popular.
Meanwhile, the French and German governments recently showed a greater willingness to negotiate Turkey's EU entry, which has advanced at a snail's pace since 2007. This could make Ankara more disposed to resolve the Cyprus problem, and if the EU was able to put pressure on the Greek Cypriots as part of the bailout reunification could be on the cards.