The Elcano Blog is back in business after the Summer break. We're returning to our series on what's new in the Elcano Global Presence Index (IEPG) 2012 country ranking.
The United States (1st IEPG, 1st GDP and population of 315,950,000 in 2012) retains its leading position on the IEPG for all the years and all the variables covered, except energy, manufactures and tourism.
The soft dimension is the main contributor to the United States' global presence, accounting for 46% of the Index in 2012. Since 1990, soft presence has steadily gained ground over the military variables not only in the U.S, but in all the countries covered by the IEPG. As a result of the current economic crisis there have been significant declines in several variables, notably technology and science.
The growth of the U.S' economic presence has been faster than in other countries, thereby raising its weighting in the IEPG from 18% to 39% over the past two decades. Only in energy –in which the oil-producing countries are in the lead– and manufactures –dominated by China– is the U.S not in the lead. There has been a marked increase in United States' exports of primary goods and in its stock of foreign direct investment, even despite the crisis.
At the beginning of the 1990s it was the military dimension that made the greatest contribution to the United States' international presence. However, after a dip in the 1990s, it has risen again in the 2000s, mostly due to the conflicts in Afghanistan and Iraq.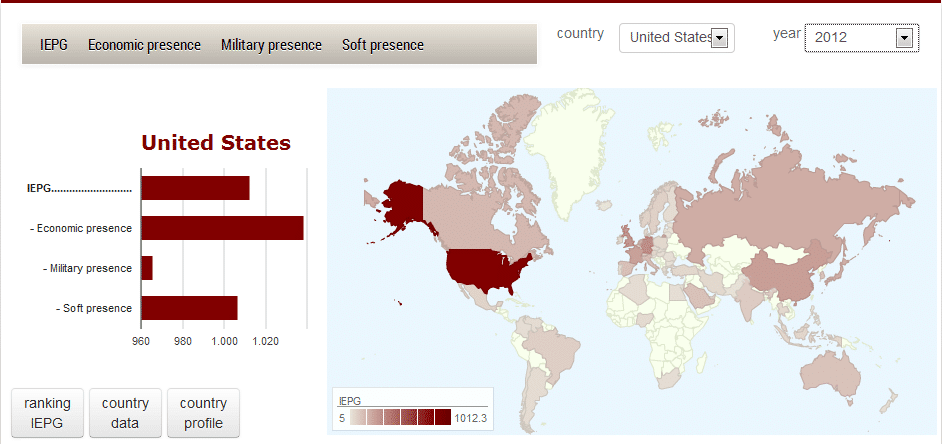 More data and info on the Elcano Global Presence Index website.