On occasion of the speech of King Willem-Alexander of the Netherlands on 17 September –which declared the end of the Dutch welfare state– and the recent meeting at the Elcano Royal Institute with the Dutch Ambassador to Spain Cornelis van Rij, we continue our series of posts on what's new on the IEPG 2012 ranking.
The Netherlands is 8th in the IEPG ranking (18th-largest GDP and population of 16,730,348 in 2012), up one position since the 1990s. The rise is largely due to the economic dimension and, specifically, to primary goods and energy exports, which account for 72% of the IEPG's total value in 2012. The soft variables have a lower weight than in the case of other European countries and have remained more or less constant at around 30%. Meanwhile, the country's military dimension has steadily dropped to only 1% of its global presence.
Over the past decade, Dutch agricultural exports have grown significantly. The Netherlands is now the 2nd-largest world exporter of this type of goods, after the United States. Furthermore, the country is Western Europe's leading producer of gas. Additionally, Rotterdam is one of the world's most important ports, providing the Netherlands with a strategic export platform that reflects on its trade figures. Hence, a large part of the Netherlands' important global presence is attributable to its position as a commercial hub.
The country's presence within Europe is also strongly based on its economic dimension, even more so than in global terms. Its economic presence accounts for 77% of total Elcano European Presence Index (IEPE) in 2012. In this area, it ranks 2nd after Germany, being the leading exporter of primary and energy goods and the 2nd-largest exporter of manufactures within the European Union. However, its soft presence is not that important –it ranks 7th in Europe–, placing it in the 4th position of total IEPE after Germany, the United Kingdom and France.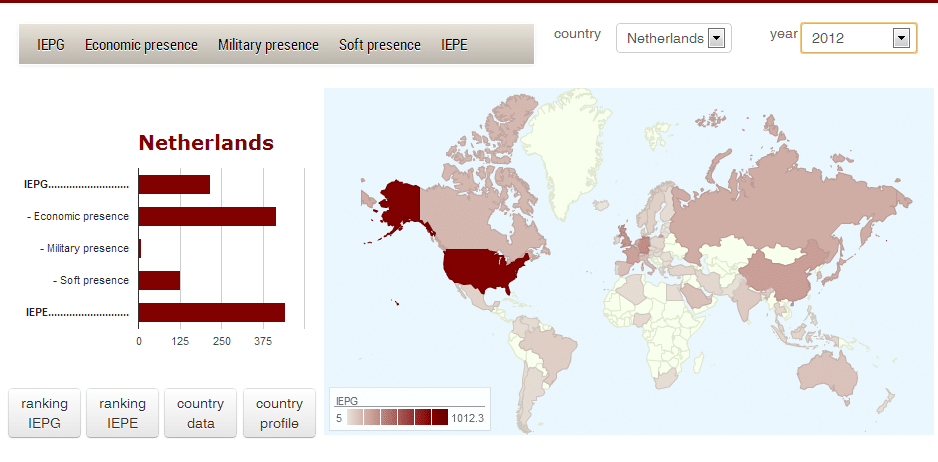 More data and info on the Elcano Global Presence Index website.