The results of the German legislative elections on 22 September could signal a turning point in the euro crisis. So we're returning to our series on what's new on Germany in the IEPG 2012 ranking.
The German economy has ranked 2nd in the IEPG since the beginning of the 1990s, after the fall of the Berlin Wall. Since then its presence has increased in all of the Index's items, making it the European country with the greatest global presence.
Although in 1990 it was the soft dimension that most contributed to Germany's presence, its dynamic export sector -Germany was the world's leading exporter until it was overtaken by China in the early 2000s- has contributed to its sharply increased economic presence, which now accounts for 55% of its global presence.
Given the heavy intra-European orientation of German trade flows and the slowdown in demand among its European partners over the past few years, the growth of Germany's economic presence has slowed down. The crisis has decreased the growth in its service exports and in its investment stock. Moreover, its soft presence has been affected in a very significant way: it has declined between 2010 and 2011 and barely grown in 2012.
As for its intra-European presence, Germany ranks 1st in the Elcano European Presence Index (IEPE). It is the country with the highest presence in manufactures, services, technology and science. The only variables in which the German presence is not significant, in European terms, are energy and culture. Between 2005 and 2012, like the IEPG, the German presence in Europe has become more economic -rising from 46% to 54% of its global presence- and less soft.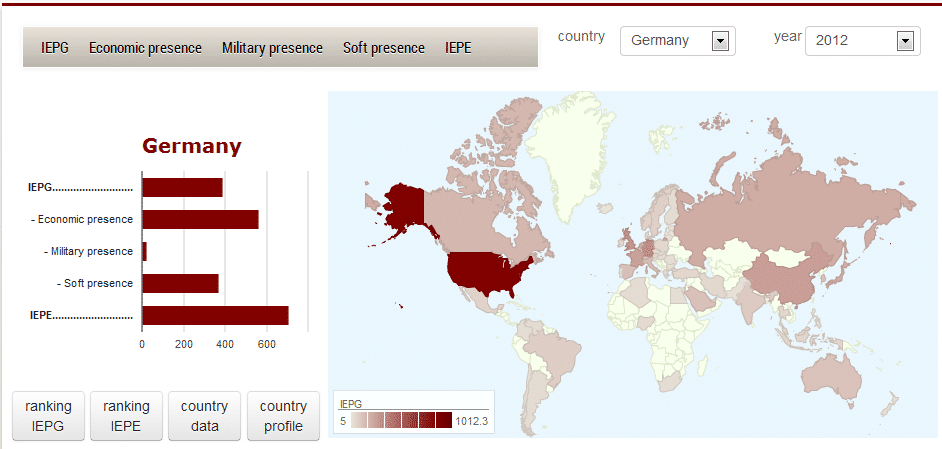 More data and info on the Elcano Global Presence Index website.