We say good bye to 2013 with the last post of our series on what's new in the Elcano Global Presence Index (IEPG) 2012 country ranking which started in July.
The North American Free Trade Agreement (NAFTA) celebrates its 20th anniversary of implementation on 1 January 2014 but this date also marks the 25th anniversary of the Canada-U.S Free Trade Agreement (FTA). Both events have profoundly transformed Canada's economy (11th GDP and population of 34,818,867 in 2012) all this years. In 2012 Canada's position on the IEPG was 9th, down from the 8th place throughout the 1990s. Its presence is largely based on the economic dimension, which accounts for 58% of the indicator's total value.
The most notable are the exports of primary goods and energy. Canada is the world's 3rd-largest producer of gas and the 7th-largest of oil, being the one of the main exporters of energy goods. Its exports grew markedly in the early 2000s, helping it to maintain its global position. Moreover, Canada has a highly technified agricultural sector that has boosted the export of primary goods. All other economic variables have risen although at a slower rate, particularly exports of manufactured goods in the second half of the 1990s and services and investments in more recent years.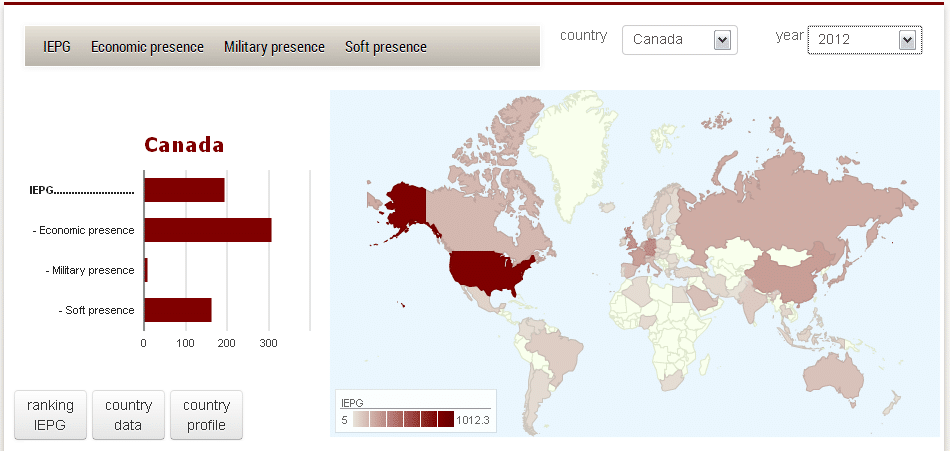 The trend in Canada's soft presence has been milder, with its contribution down from 48% in 1990 to 38% in 2012. Nevertheless, some variables have recorded significant increases, especially since 2005 and particularly in technology, education and development cooperation as well as migrations.
More data and info on the Elcano Global Presence Index website.