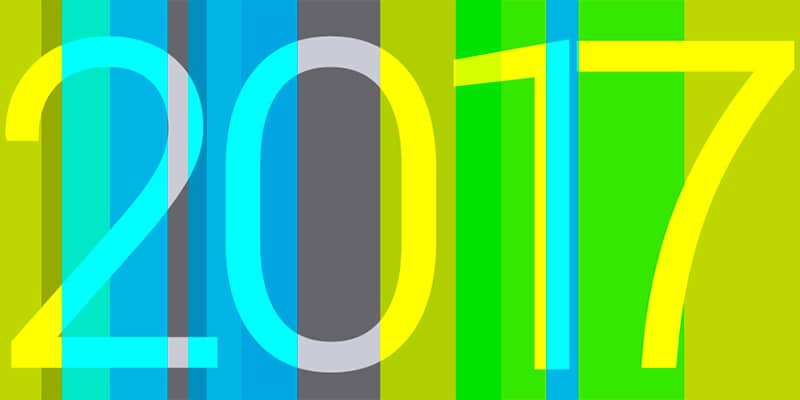 Only now is Spain recovering its pre-crisis (2008) GDP level. Its Great Recession took a heavy toll, particularly in terms of unemployment, but one area – internationalisation– has hardly been affected. The 2017 Elcano Global Presence Index of the Elcano Royal Institute, which measures the results of internationalisation, ranks Spain 12th out of 100 countries with a score of 204.1. Spain has held this position since 2014 (between 1995 and 2013 it was in 11th place). The United States has the highest global presence followed by China (see Figure 1).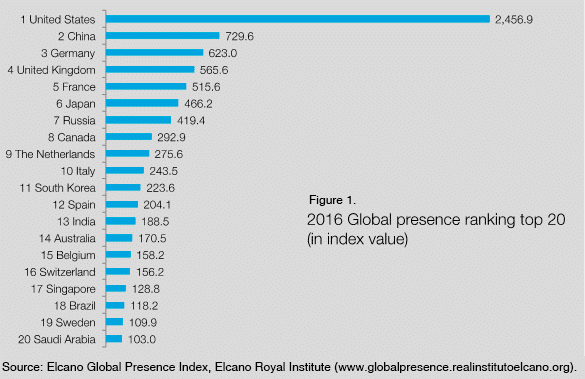 The Index, calculated with objective data, is based on three dimensions (economic, military and soft presence), which, in turn, are composed of variables of a different nature (ranging from energy to development cooperation, troops deployed or tourism), all of which reflect cross-border presence (see Figure 2). Weights are assigned to variables and dimensions are based on experts' criteria.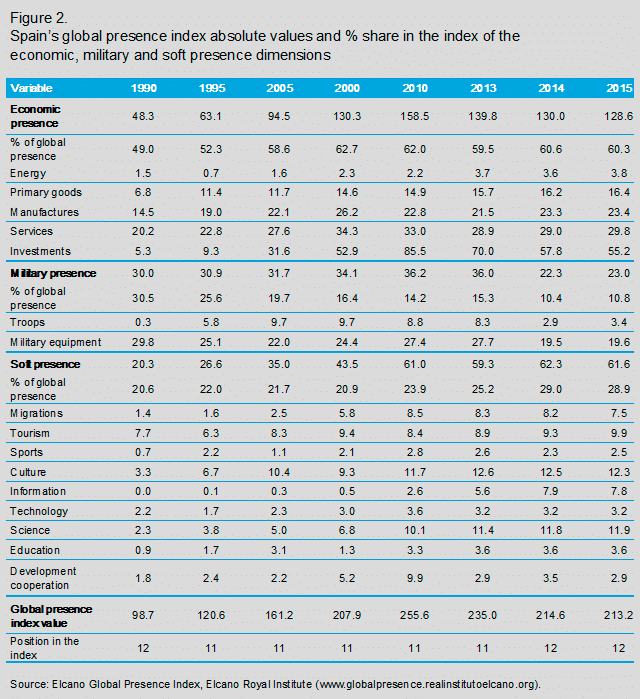 The Elcano Global Presence Index does not measure power as a country may have a strong international projection and a weak regional or global influence (or vice-versa): the relationship between presence and power depends on a country's foreign policy. The index is calculated in order to determine the effective external projection of countries, regardless of their reputation or image.
In Spain's case 59.3% of its global presence is due to its economic presence (62% in 2010), 29.8% to its soft presence (23.9%) and 10.9% its military presence (14.2%). The country has a high global presence in relation to its position in the world in terms of the size of its economy (the 14th largest in nominal terms) and population (30th).
Its economic presence is characterized by a strong service sector, a relatively low manufacturing weight compared to countries such as Germany or even Portugal, and a relatively high commodities weight compared to France and Italy. Lastly, Spain has a notable soft presence (tourism, culture and more recently science), which has risen every year since the first Elcano Global Presence Index was calculated for 1990.
Three factors, in particular, have enabled Spain to maintain its global presence since the crisis: the big rise in exports of goods (from €160 billion in 2008 to €254 billion in 2016), the stock of its direct investment abroad ($516 billion, much higher than Italy), reflecting companies' acquisitions since the 1990s, and a tourism sector (recently ranked as the most competitive by the World Economic Forum) that almost every year notches up a new record in the number of visitors (75.3 million in 2016).
This year the high-speed train between Medina and Mecca in Saudi Arabia, a colossal contract won by a consortium of Spanish companies and one of the emblems of the Spain brand abroad, will begin operating. Last month a consortium led by Tubacex won a €556 million contract to supply Iran's state oil company with 600km of corrosion resistant alloy pipes for its oil projects, while in Latvia 300 Spanish troops and 80 vehicles began to be deployed in a defensive mission under NATO's umbrella. Not since the Blue Division –a unit of Spanish volunteers who served with the German army on the Eastern Front during WWII– have Spanish troops been so close to the Russian border.
Spain's economic re-emergence, with a growth rate this year that is the strongest among the large EU countries, and the maintenance of its global presence comes at a time when the country is no longer associated with the word "crisis", according to the latest barometer of Spain's image drawn up by the Elcano Royal Institute. It has been a long haul. Spain's image has improved notably in the last four years, particularly in Germany, although the country is still associated with the clichés of bulls, flamenco, siesta and fiesta.
While corruption and economic problems are the two main concerns of Spaniards, according to the CIS barometer, most of the citizens of the countries surveyed for the Elcano barometer view Spain, surprising though it may seem to those of us who live here, as "honest" and "trustworthy."
Almost 500 years since Juan Sebastián Elcano completed the first circumnavigation of the world and a vast empire was created, Spain has re-built a substantial global presence. He would have been pleased.