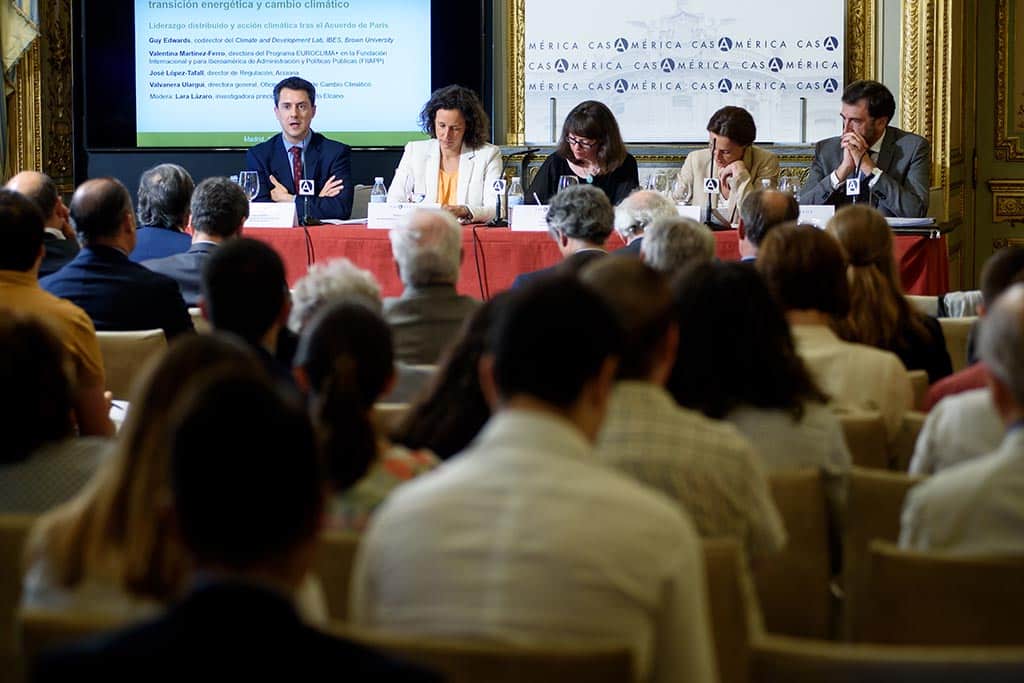 On Monday 18th  June, I had the pleasure to speak at a seminar on Ibero-America and the energy transition and climate change organized by the Elcano Royal Institute and Spain's Ministry of Foreign Affairs, European Union and Cooperation. Here's an edited version of my comments.
The Paris Agreement was a diplomatic victory for Europe and Latin America
The adoption of the Paris Agreement in 2015 was a diplomatic triumph for France, the EU and also for Latin America. Latin America has played a key role on global climate governance, which represents one of its most important recent contributions to international politics.
In the years before the Paris conference in 2015 and during it, the EU and various Latin American countries including Mexico, Colombia, Peru, Costa Rica and Chile at times worked proactively together especially through the Cartagena Dialogue and the High Ambition Coalition. This successful climate diplomacy between both regions on areas such as the legal architecture of a future deal and the Nationally Determined Contributions (NDCs) played a significant role in helping to secure the Paris Agreement.
Despite Latin America only contributing around 9% of global emissions, countries are acting on climate change given the region is highly vulnerable, but also because there are significant opportunities from the low-carbon economy. Many of these countries think that building prosperity and tackling climate change should advance together.
There has been considerable progress across the region on designing climate change policies and laws and preparing the countries' Paris commitments. Yet the implementation of these climate policies remains a huge challenge. For example, in 2016 Brazil's emissions rose by 9%, driven largely by an increase in illegal deforestation, while in Mexico and Argentina the increasing importance of natural gas risks undermining goals to decarbonize the power sector.
This is an opportune and vital moment for Europe and Latin America to ramp up their efforts on climate change
While the EU and most Latin American nations, among others, have said that the Paris Agreement is irreversible, proactive steps to protect it, facilitate implementation and increase ambition are required, especially in light of the planned departure of the United States.
The EU and Latin America need the agreement to succeed not only to secure the stability of the global climate but also to protect a major success story of multilateralism. After all, the Paris Agreement is one of the most important examples of international cooperation this century. The EU's and Latin American countries' strategic interests are now closely tied with managing climate risk, the global energy transition and the successful implementation of the Paris Agreement.
The EU has far greater flexibility to act independently in Latin America compared with other regions. On Russia, Iran and Turkey, Europe's ability to act is limited by Great Power politics and its dependence on the positions of the US. At the same time, Latin American countries are increasingly independent in their foreign policies. The EU can gain greater credibility with the region if it makes more effort to emphasize that it is committed to equal partnerships based on mutual interests and agendas.
There is a risk that Trump's departure from the Paris Agreement could dampen enthusiasm for the Paris deal and making greater commitments to enhance ambition. In this age of global volatility and disruption, the EU will need to act with agility and speed in adapting to the new circumstances to protect and promote Europe's values and interests. This is why EU needs to act quickly to demonstrate to the region that it is committed to supporting efforts to implement the Paris Agreement.
The EU's recent agreement to ramp up its renewable energy and energy efficiency targets and efforts to bring its 2050 strategy into line with the Paris Agreement are promising developments. Yet we cannot take this progress for granted. The International Energy Agency says that last year the EU's energy-related emissions grew by 1.5% mainly due to robust growth in oil and gas use driven in part by the growth of the transport sector.
This year presents an excellent opportunity for the EU and Latin American countries to place the low-carbon and climate-resilient agendas at the centre of their strategic partnerships. In 2018, Latin American countries are holding a number of elections including Brazil on 7th  October. Other countries including Mexico, Colombia, Chile, Ecuador and Costa Rica have recently held presidential elections. On 16th  July the EU and Latin American and Caribbean foreign ministers will also meet in Brussels. This is also a big year for climate diplomacy not least the negotiations to finalize the Paris Agreement rulebook, the Talanoa Dialogue and the G20 led by Argentina this year.
The EU and Latin America have several areas where ramping up their cooperation on climate change could positively impact efforts to implement the Paris accord
The level of development cooperation, climate-related finance and political cooperation on climate change is already extensive between both regions. The priority is how to ensure these activities create political support to increase ambition for the NDCs and demonstrate to policymakers, especially new administrations taking office, that these efforts are beneficial to reducing poverty and building sustainable economies.
Climate diplomacy will continue to be a key element. Both regions will need to continue building trust. This is especially important with new administrations taking office. The EU and Latin American countries could continue to invest resources in the Cartagena Dialogue and High Ambition Coalition to ensure these channels remain open. Existing technical cooperation, especially through Euroclima+ and the Iberoamerican Network of Climate Change Offices (RIOCC) could take a more strategic turn. This enhanced bi-regional climate diplomacy could help partially fill the void being left by the US.
Latin American governments are more likely to support a robust climate agenda if it helps to achieve a fairer and more inclusive sustainable development. Securing stronger climate ambition by 2020 relies on creating positive feedbacks between progress in the real economy, political interests and diplomacy. This could be a key area of focus for Europe and Latin America to showcase progress together in the real economy.
Latin America's market for electric buses and vehicles is small but rapid growth is expected. By the end of the year, Chile will have the largest fleet of electric buses in the region. In the next month or so Colombia's fleet of electric cars will likely surpass 1,000 units up from only a handful a few years ago.
Public transport has the strategic potential to spearhead electric mobility in Latin America given the region has the highest use of buses per person in the world. Latin America's leadership on public transport such as Bus Rapid Transit (BRT) systems put it in a strong position. These systems could be electrified relatively easily given current infrastructure and compatibility with electric vehicles and charging infrastructure.
This area could become a key focus for EU-Latin America cooperation on climate change, which ties together investment, trade and the Paris accord. Realizing this potential requires considerable financial support –an area where the European Investment Bank and Latin America Investment Facility and others can play a key role.
European renewable energy companies are major players in Latin America. Between 2005 and 2017, European firms were responsible for 65% of all investment in renewable energy projects in Latin America, mainly in Chile, Mexico and Brazil.  There are opportunities to take advantage of Latin America's incredible, yet still untapped, potential for renewable energy. It will be essential to ensure this progress in the real economy is captured in the climate discussions about designing more ambitious NDCs and 2050 plans.
Conclusion
This year there are various events where the EU and Latin American nations can discuss the opportunities to ramp up their collective ambition and actions on climate change such as the EU-CELAC foreign ministers meeting next week. We know climate diplomacy can bring important results when adequate resources and attention are invested. With the impressive advances on renewable energy, electric mobility and increasing finance to protect vulnerable ecosystems, the timing is ideal to better align diplomatic efforts with the advances in the real economy to build a low carbon future and climate resilience. The next two years are vital.