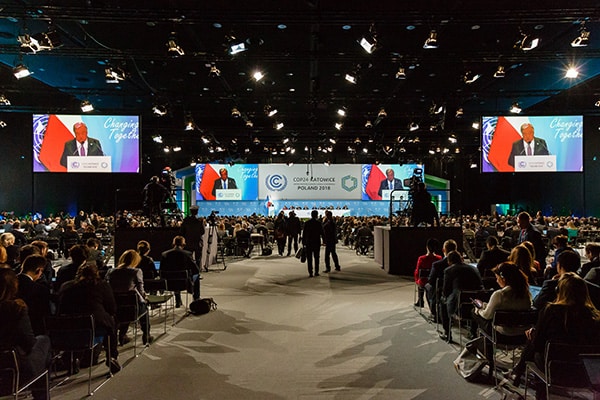 Almost three years ago the Paris Agreement was adopted. It was an unparalleled diplomatic success for a number of reasons. First, it brought almost all developing and developed nations together to address climate change. Second, it required limiting global mean temperatures to well below 2ºC compared to pre-industrial levels while striving to limit said temperature increases to 1.5ºC. Third, it acknowledged the existing emissions gap and enshrined in the text a periodic stocktake and ratchet up mechanism to gradually close this gap. Fourth, the Paris Agreement sought to balance emissions and absorptions by the second half of the century, prompting discussions about net zero in regional and national climate legislation. Fifth, and arguably the most crucial, the Paris Agreement called for aligning financial flows with the goals of the Paris Agreement. For all its merits, including the record-breaking speed of its entry into force, the Paris Agreements has been widely praised, and yet, much hard work remains to be done.
COP 24 in Katowice is where operationalization of the Paris Agreement is expected to occur. The Paris Agreement Work Programme (PAWP), informally known as the Paris rulebook (or as the COP 24 Presidency recently renamed it, the Katowice rulebook) is one of the key expected outcomes of COP 24. For the rulebook to be completed countries will have to decide on how to report their emissions and what will be included in Parties' commitments —known as their Nationally Determined contributions (NDCs), with an upcoming second round of commitments in 2020—. Furthermore, countries will specify how to report international climate finance (i.e. what is counted towards climate finance) as well as flesh out market and non-market mechanisms under article 6 of the Paris Agreement.
The mandate for COP 24 is to finalise a rulebook that will bring the Paris Agreement alive. International climate negotiators have publicly said COP 24 will deliver. And yet, there has been a year-long exercise of expectations management, publicly and privately, as to whether the Paris rulebook will actually contain a full set of rules that will enable the decentralised implementation of the Paris Agreement by Parties. The extra negotiating session in Bangkok, tasked with streamlining Parties' negotiating options into more manageable draft negotiating texts with a reduced set of options for negotiators to agree upon, is indicative of the complexity of negotiations.
As expected, reporting was one of the thorny issues in Bangkok. The divide between developed and developing nations as regards NDCs reporting was significant.  Reporting on climate finance by developed countries was also contentious, with developing countries demanding information to plan ahead and developed countries being limited by their own budgetary cycles and constraints. Sound reporting is paramount to accountability, which in turn fosters credibility and trust among Parties, allowing negotiations to move forward. Losses and damages was a further sticking point during preparatory negotiations in September. Patricia Espinosa said Bangkok had yielded uneven progress on the implementing guidelines. The Bangkok meeting nonetheless produced a proxy draft rulebook (the Bangkok outcome) with many issues left open. In order to finalise the PAWP, negotiators will have to muster all the political will and foresighted ambition they can.
The window of opportunity is closing
Scientific evidence by the IPCC and by UNEP, non-state action and continued cost reductions in renewable energy sources are some of the tailwinds for negotiators, yet again. The IPCC report on 1.5ºC will feed another key process to watch at Katowice, the Talanoa Dialogue. This report states that if we are to avoid the worst consequences of climate change we should be striving to limit temperature changes to the most ambitious of the Paris Agreement's goals. The window of opportunity is closing fast and if we do not close the emissions gap by 2030, holding global mean temperature increases to the 'well below 2ºC' guardrail will be very unlikely.
The UNEP's 2018 emissions gap report further stresses the need to act urgently and decisively. Building on the IPCC's 1.5ºC report, UNEP reiterates that current action is insufficient as GHG emissions reached a new record at 53.5GtCO2e in 2017 (49.2GtCO2e if land-use change is excluded), while concentrations of CO2 are now above 403 ppm. The emissions gap report also highlights that global mean temperatures will increase by over 3ºC by the end of the century even if current emission reduction commitments are fully implemented, a message that has been voiced repeatedly since 2015. Furthermore, even if key emitters within the G20 are on track to meet their Cancun Pledges, there is currently a sizeable implementation gap to meet climate commitments in the first round of NDCs. Ambition and implementation have to increase significantly if temperature goals under the Paris Agreement are to be met.
Headwinds at COP 24 continue to come from the political sphere. US withdrawal announcement inevitably weighs in on negotiations, and former negotiators such as Todd Stern are warning that if the rules are too stringent, US reengagement with the Paris Agreement might be difficult. Brazil's decision not to host COP 25 and its anti-environmental policies under Jair Bolsonaro are also unwelcome news. Furthermore, early Party positioning saw Turkey delay the start of negotiations at COP 24 by requesting to be excluded from Annex I of the Convention in order to be eligible to receive international climate finance for its mitigation and adaptation actions.
Additionally, there have been doubts about the COP presidency's ambition, given the country's coal dependence and emphasis on 'efficient coal' to meet climate targets. The thematic choice of Solidarity and Just Transition for COP 24 is an important one at this socio-political juncture as it highlights the need for social acceptance of a system wide transformation towards a low carbon development model in Poland and beyond. However, despite its unquestionable relevance, just transition is, as we have seen above, by no means the sole issue to address at COP 24.
On a more positive note, both past COP Presidents and the G20 have thrown their political weight in support of COP 24 and the Paris Agreement. Given the breadth and depth of ground to be covered in the two weeks COP 24 will last, political support, skilful, determined and decisive leadership will undoubtedly be needed to ensure the success of the most important COP since 2015. Once the rulebook is finalised, full implementation and increased ambition by all parties will be paramount in delivering a bearable climate. As Frank Bainimarama stated during COP 24's opening ceremony 'hear the signs and summon the political will. Please, just do it!'