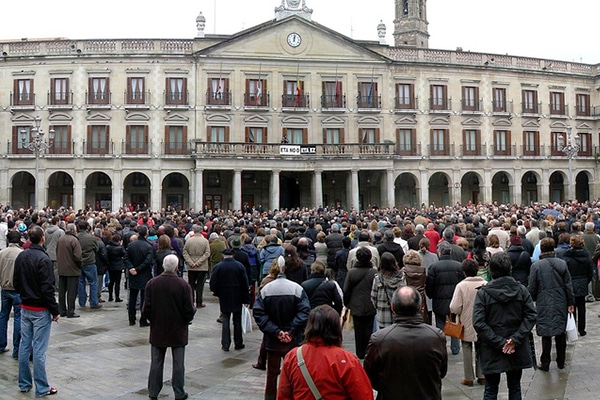 The publication in English on 16 May of the blockbuster novel Patria ('Homeland') about the impact on two closely knit families of the murder of one of its members by the Basque terrorist group ETA should go some way towards bringing the suffering of the victims of the almost 50-year conflict to a wider audience.
The victims of ETA's armed struggle for an independent Basque Country, which ended in 2011 with a death toll of 854 (the group did not disband until May 2018), have rarely been the subject of fiction. As one of the characters in Fernando Aramburu's absorbing if overly-long 600-page novel (more than a million copies sold in Spanish) says: 'The victimisers are far more interesting – their crises of conscience, their sentimental backstories, and things like that'.
The plight of ETA's victims and the efforts being made to forge a narrative of the conflict acceptable to all sides, in order to achieve a meaningful and lasting reconciliation, are emotive issues in the Basque Country today.
The novel of Aramburu, a Basque who has lived in Germany since 1985, recounts the lives of 'ordinary' people caught up in the conflict between the 1980s and when it ended. Txato, a transport company owner, is killed when he stops paying ETA's 'revolutionary tax' to finance its campaign of killings. He is also suspected of being an informant. Joxe Mari, the son of his best friend Joxian and a member of ETA, is suspected of the assassination. His mother Miren takes his side and becomes a fanatic of ETA's cause out of maternal instinct ('No matter what he does, he will always be my Joxe Mari, and I have to love him'). 'She understands nothing about politics, has never read a book in her life, but she shouts slogans the way others set off firecrackers', Arantxa says of her mother Miren. 'I get the idea that she walks through town memorising what she sees on posters'.
Miren cuts off all contact with her best friend Bittori, Txato's widow, who against the advice of her local priest, sympathetic to ETA, returns many years later to the village where her husband was killed to try to find out how he died and achieve closure.
At the very end of the novel there is some kind of reconciliation, by when Joxe Mari, aged 43 and after spending 17 years in prison, rejects ETA, concluding he was the 'victim of a fraud'. Urged on by his sister, he asks Bittori to forgive him.
The rights to 'Homeland', published by Picador in the UK and fluently translated by Alfred MacAdam, have been sold in 24 languages, an HBO TV series is in development, the novel has won nine literary prizes in Spain and been a German and Italian top-ten bestseller. Its huge success underscores the extent to which the subject has struck a chord.
Aramburu alludes only obliquely to ETA's historical matrix. This makes the novel –in a world wrought by terrorism (the latest horror the killing of more than 250 people on Easter Sunday in bomb blasts in Sri Lanka)– more universal.
Founded in 1959 during the Franco regime, initially as a cultural organisation and later as an armed group, ETA's highest profile killing was the 1973 assassination of Prime Minister Luis Carrero Blanco, the dictator's chosen successor (see Figure 1).
Figure 1. Selective timeline on ETA, 1958-2018
| | |
| --- | --- |
| 1959 | ETA created during the Franco dictatorship to fight for an independent Basque Country |
| 1968 | Kills Civil Guard officer in its first deadly attack |
| 1973 | Franco's Prime Minister, Admiral Luis Carrero Blanco, killed when a bomb is detonated under his car |
| 1974 | Thirteen people die in a bomb attack on a Madrid café |
| 1980 | The bloodiest year of its violent campaign, two years after Spaniards approve a new democratic constitution: 92 people killed |
| 1987 | Single bloodiest attack: 21 people killed by bombs in the car park of a shopping centre in Barcelona |
| 1989 | ETA declares its first cease-fire but breaks it by killing a Civil Guard officer |
| 1996 | Francisco Tomás y Valiente, former President of the Constitutional Court, killed |
| 1997 | Six million people take to the streets to protest at the murder of Miguel Ángel Blanco, a local Popular Party politician |
| 1998 | New ETA truce ends in 1999 after failed negotiations |
| 2002 | New law on political parties bans Batasuna, an ally of ETA |
| 2006 | Third cease-fire ends after car bomb kills two Ecuadoreans in Madrid airport car park |
| 2011 | ETA announces 'definitive cease' to its armed struggle. Officials say ETA believed to have fewer than 50 members |
| 2017 | ETA disarms after handing over weapons to French authorities |
| 2018 | ETA dissolves itself |
ETA stepped up its campaign after the advent of democracy as of 1975, which was sealed by the 1978 Constitution. It killed 95 people in 1980 –twice as many as during the previous regime–. In its bloodiest single attack in 1987, 21 people died when ETA placed bombs in the car park of a shopping centre in Barcelona. The group's last killing was in 2010. Jorge Semprún, a former communist opponent of Franco and Culture Minister (1988-91), called ETA 'the only serious residue that remains of Francoism'. The scale of the killings led the security apparatus to set up death squads that hunted down and killed 27 ETA suspects in a 'dirty war' that undermined the rule of law that Spain had finally achieved with the advent of democracy.
Aramburu masterfully depicts the thick atmosphere of fear and claustrophobia that gripped the Basque Country for so many years, which led people to take sides. While concentrating on the victims of Txato's murder, he does not shy away from the repression exercised by the authorities. In one scene Joxe Mari is brutally tortured at the notorious Intxaurrando Civil Guard barracks.
ETA was defeated, but the movement for a sovereign Basque Country has not gone away. The pro-independence EH Bildu doubled its number of seats in the national parliament to four in last month's general election (the region is represented by a total of 18 MPs) and won 258,840 votes, 74,000 more than in 2016. The abertzales ('patriotic' left) shouted down and hurled insults at an electoral meeting in Rentería (where 19 people were killed by ETA) by Albert Rivera, the leader of Ciudadanos, who has been particularly vociferous in denouncing all manifestations of Catalan or Basque nationalism. The more moderate Basque Nationalist Party (EAJ/PNV) won six seats, one more.
Consuelo Ordóñez, who heads Covite, an association of relatives of victims of terrorism in the Basque Country, and whose brother Gregorio, a member of the Basque regional parliament for the conservative Popular Party was murdered by ETA in 1995, would like the novel to be part of the curriculum in Spanish schools, as she says it is more effective than anything her organisation does.
As a long-time resident of Germany, Aramburu admires how that country has got to grips with its terrible past admirably, in the form of, for instance, the Jewish museum in Berlin, monuments and teaching the Holocaust in schools.
One year after ETA's dissolution, this remains a challenge in the Basque Country and in the wider Spain. Earlier this year the Basque government decided not to offer students a history course that included the period marked by ETA's terrorism as a consensus had not yet been found with victims' associations and political parties. The aim is to introduce a course at the start of the next academic year.
Weakened by repeated arrests of leaders and operatives and minimal support for its cause, ETA became a spent force long before it disbanded. Aramburu's moving novel represents its literary defeat.