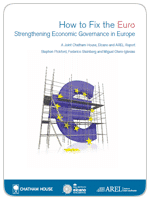 Presentation of How to Fix the Euro. Strengthening Economic Governance in Europe, a joint Chatham House, Elcano Royal Institute and AREL report at the CEPS Conference Room (Brussels).
Chair: Cinzia Alcidi, LUISS Research Fellow, CEPS.
Speakers: Miguel Otero-Iglesias, Senior Analyst of the Elcano Royal Institute; Stephen Pickford, Senior Research Fellow for International Economics, Chatham House; Further information: CEPS.