Tuesday, 7th November 2023, from 09:30 to 12:10 h. CET (UTC+1). Venue: CEPSA TOWER. Paseo de la Castellana 259A. Madrid.
In-person event
The imperative to reduce industrial greenhouse gas (GHG) emissions, a renewed global competition and the restructuring of value chains have brought industrial policy to the forefront of the political agenda. Decarbonising the industrial sector is key for the energy transition, given that industrial fuel combustion, processes, product use and energy consumption amount roughly to one third of global GHG emissions, and have increased by approximately 70% since 2000. Decarbonising industrial emissions poses a significant challenge due to fierce international competition and technical complexities, the need for supportive policies with a direct influence on trade, climate negotiations and global geopolitics. In this context, the EU's challenge is to make transition to sustainable energy systems while at the same time promoting economic growth by seizing the new green industrial opportunities in an international environment where cooperation mechanisms are experiencing greater tensions.
Against the backdrop of energy security concerns and high economic uncertainty for Europe, rising energy cost disadvantages, geostrategic instability and competing policy options – like the US Inflation Reduction Act (IRA) – the future of the EU's industry is firmly back on the Brussels agenda. In 2023, the European Commission presented the Green Deal Industrial Plan and the Net Zero Industry Act, reshaping the EU's efforts to become a global leader in clean technologies. As an example of this new political landscape, Brussels is deploying new instruments such as the Carbon Border Adjustment Mechanism, the Next Generation EU Funds and the EU Innovation Fund. Meanwhile, the IRA and the US Infrastructure Investment and Jobs Act (IIAJ) provide multi-billion dollars grants to decarbonise industry and develop manufacturing of low-carbon technologies. Despite the tensions in transatlantic relations, there is consensus on reconfiguring the trade relationship with China, despite hesitation between opting for de-risking over de-coupling, to curb the dependency on certain strategic goods and protect intellectual property.
The new political landscape opens up many geopolitical, energy and climate uncertainties that will be addressed during the event. These will include, among many others: How compatible are decarbonisation efforts, multilateralism and open-strategic autonomy? What is the future of the EU-US and EU-China relations? Is the EU ready for the industrial dimension of the Green Deal and global systemic rivalries? What are the expected impacts of these policies on industries at both sides of the Atlantic, and on climate negotiations during COP28 and beyond? What will be the effect of the international goals that are being proposed by IEA, EC and G20 (such as tripling the renewables deployment or doubling energy efficiency)?
Hashtag: #Cecme23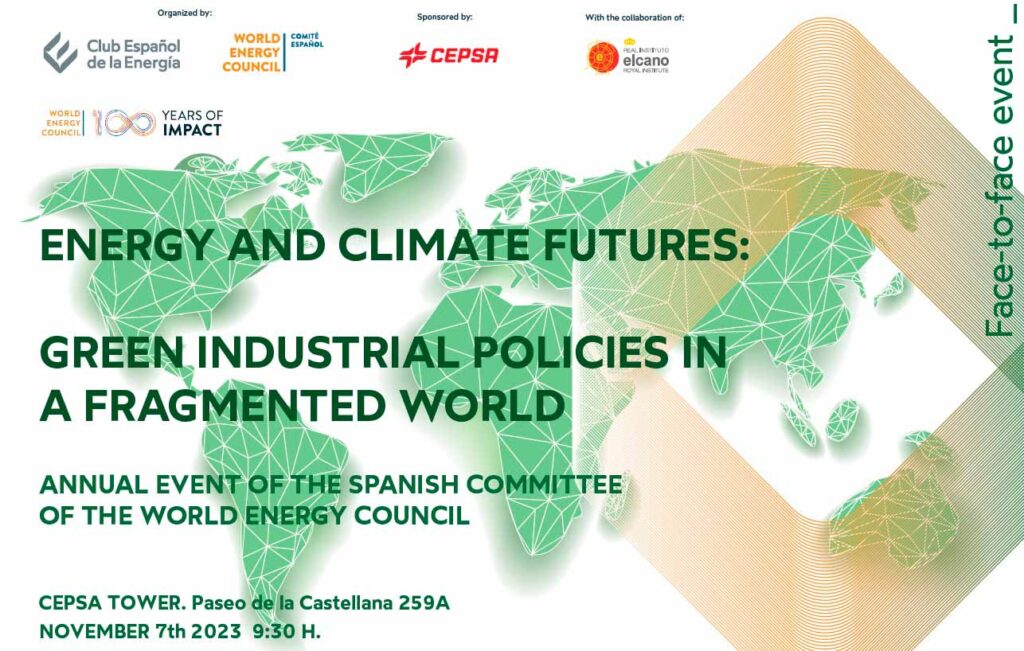 Programme
9:30 Inaugural session
Maarten Wetselaar, CEO, CEPSA
Ana Paula Marques, Chair, Spanish Committee, World Energy Council (WEC)
José Juan Ruiz Gómez, Chairman, Elcano Royal Institute
Mario Ruiz-Tagle, President, Spanish Energy Club
10:00 Plenary session I: U.S industrial policy: A perspective from United States Member Committee of World Energy Council
Thomas Terbush, President, EPRI International (U.S WEC)
10:15 Round table: Green industrial policies: the way ahead
Moderator: Natatia Collado Van-Baumberghen, Research Economist, ESADE
Speakers:
Nick Bitsios, Chair, Energy and Climate Working Group, BUSINESSEUROPE
Federico Steinberg, Senior Analyst, Elcano Royal Institute.
Mark Van Stiphout, Deputy Head of Unit – Research, Innovation, Digitalization, Competitiveness at DG Energy, European Commission.
Michal Meidan, Head of China Energy Research, Oxford Institute for Energy Studies.
Cecilia Malmström, Former EU Commissioner for Trade and Home affairs; Nonresident Senior Fellow, Peterson Institute for International Economics.
11: 45 Plenary session II: The future of the climate change international negotiations
Moderator: Lara Lázaro Touza, Senior Analyst, Elcano Royal Institute
Speakers:
Emmanuel Guérin, Fellow, Special Advisor to Prof. Laurence Tubiana, European Climate Foundation
Ana Rivero Fernández, Operating Partner ESG, Alantra Pivate Equity
12:00 Address from the CECME Members (video)
12:10 Closure
---
The event will be held in English and Spanish with simultaneous translation.
Please, register here.