According to a draft of the new national security strategy of Japan released on 11 December, the country must "strengthen its own capabilities and expand its own roles"  seeking a larger role in the Asia-Pacific region as the balance of power shifts with the decline of the U.S influence and the rise of China.
Japan is now 7th in the IEPG after its global presence position has declined over the past few decades (population of 127,400,000 in 2012). The economic crisis has partially been responsible for this: the Asian country holds the 10th position in economic presence although it retains its 3rd place in the GDP ranking. This slowdown, the rise of Russia, China and the United Kingdom, have led Japan to yield the leading positions it held in the mid-nineties, when it was fourth in economic presence and also in the classification of IEPG.
In 2012, Japan's soft presence descends because of the drop in tourism and development cooperation, as these variables were likely to be affected by the 2011 earthquake. This decrease reduces the contribution of the soft dimension to the IEPG's total value –from 51% in 2011 to 48% in 2012– that now equals the contribution of the economic dimension; despite the important relative presence of Japan in variables such as technology, development cooperation, education and science.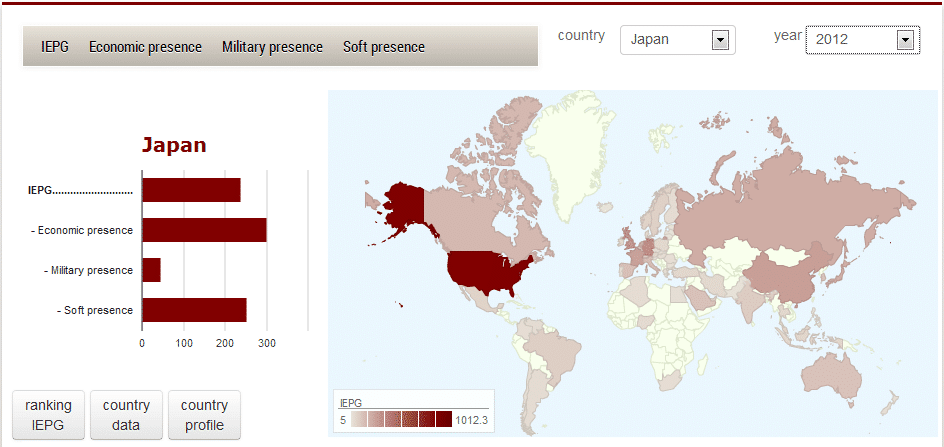 Precisely, the decline in soft presence overshadows the very recent recovery in economic variables, which had allowed it to keep Russia at bay. In 1990, the economic presence accounted for 33% of Japan's total presence and in 2012 it had risen to 48%, on the basis of manufactures, recovered investments and growing services –mainly in the banking and telecom sectors–.
In military terms, Japan remains constant at around 3% of the IEPG's total value. Despite Japan's demilitarisation following World War II and the 'self-defence' status of its armed forces, it has the 6th-largest military presence.
More data and info on the Elcano Global Presence Index website.