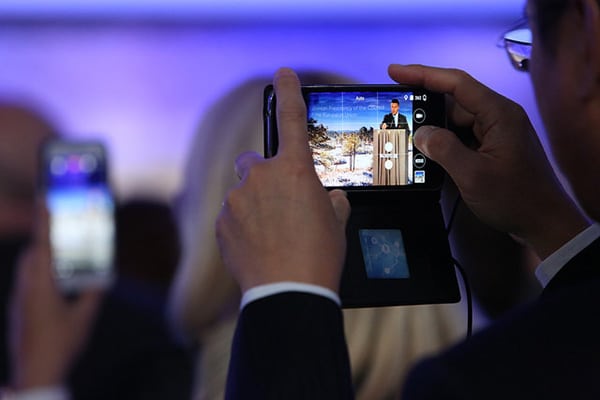 Europe has missed a vitally important boat, namely the major technology platforms that started to emerge in the 1990s. But it is still well-placed to launch some of their successors. Haydn Shaughnessy, author of Platform Disruption Wave: A New Theory of Disruption and the Eclipse of American Power, argues that platforms of this type are 'the main actor in the new theory of disruption'. The major players are few in number. Apart from what has become known as GAFA –Google (now Alphabet, recipient of the largest antitrust fine ever imposed by the European Commission, although perhaps for the slightest of reasons), Apple, Facebook and Amazon– it is possible to add China's Alibaba and, at a stretch, Tencent. Shaughnessy views Amazon as fundamentally a commercial, data storage and cloud computing company, although it is making inroads into robotics and artificial intelligence, and is applying to become a money-lender.
Many of these giant platforms are now systemic. They are operating in more and more areas, and are investing and committing themselves to virtually everything likely to flourish in the future, from the aforementioned artificial intelligence to finance. There is a basic difference between them: the US platforms stem from a certain process of development that was not anticipated at the outset, whereas their Chinese counterparts are the product of a well thought-through plan, which now includes not only commerce, but also a new way of conducting it. As Shaughnessy points out, in the case of Google and Apple, their transformation from small companies was almost accidental. In Alibaba's case this was the intention, in the sense that the objective was to propel small and mid-sized enterprises in China. It was set up, in other words, with clear goals.
If these large platforms have been disruptive in the past, albeit contributing a great deal, will they be even more so in the future, given their vast investment in R&D? This would lead to a tipping point in the world's geo-economy, in which the US and China gain power over the rest of the world. There are no European companies among such platforms. The closest to attaining such a status is Sweden's Spotify. Europe missed this particular boat, but such platforms nonetheless take advantage of the European digital single market and may take even more advantage of the fledgling single digital market, which many European companies stand to benefit from and is necessary. It is worth remembering that the sector that generated most jobs in Europe between 2010 and 2013 was the app creation industry, including developers and sales teams. The majority of these were working in two US operating systems: Android (Google) and Apple's IOS.
Not a single European company figures among the 10-largest Western companies in innovation, something the Datamation cloud computing list confirms, although the European Commission is providing help to achieve this goal and the race is not yet lost.
Some 60.000 French people, to give one example, work in Silicon Valley, which is significant in itself. This is without counting other tech clusters, such as the one surrounding the Massachusetts Institute of Technology (MIT). There is no European equivalent, and perhaps another Silicon Valley is not a realistic proposition on this side of the pond. But Europe can network, joining its various tech clusters in London (although will this be affected by Brexit when it no longer has access to European funds?), Berlin, Paris, Stockholm and others. Spain has Barcelona, Madrid, Bilbao and, for certain things, Seville.
Other boats are preparing to set sail. And if Europe has been capable of setting up Airbus in aviation and Arianne in the aerospace industry it can do the same in other domains. Indeed, Airbus has embarked on a programme of data-driven digital transformation, dubbed Quantum, to improve its business models and to see if it can generate new strands not only in hardware but also in software.
Brussels likes to emphasise that Europe is going to have one of the world's three supercomputers (the US and China will have the other two), with the EuroHPC project, in which Spain is a partner. In the Internet of things (in other words, machine-to-machine communications, which is taking longer to develop than expected), the race has just begun. Europe is more advanced than the US in the development of 5G mobile communications (3G was European, but not 4G). Autonomous cars (another boat that is setting sail), an area where US, Asian and European firms are present, will communicate better using this system, for instance, than using advanced WiFi. It will, however, require major investment in infrastructure. As far as the artificial intelligence race is concerned, the major platforms have a head-start in terms of investing in research, but Europe too has possibilities. Likewise in robotics. Europe has certain strong suits. There is talk of Europe's digital power, although it has some catching up to do.
One opportunity could be what Andrew McAfee and Erik Brynjolfsson (Machine, Platform, Crowd) call O2O (online to offline) platforms, which link the digital and the physical economies. One instance, and the shining European example, is the French collaborative enterprise Blablacar, which enables people willing to share car journeys to get in touch with each other. Since 2011, the number of high-tech start-ups founded in Europe has risen by a factor of 3.5 and investment in the underlying technology is growing.
Traditional European industries are waking up to technology. Two-thirds of the largest European companies by market capitalisation have made direct investments in technology companies since the start of 2015. The latest report from the COTEC Foundation states that the EU as a whole is now investing 25% more on R&D than before the start of the economic crisis. Spain invests 10% less, which together with the deterioration accumulated in the last five years takes it back to the same level as 2004. The latest (2017) report from DESI (the Digital Economy and Society Index), drawn up by the European Commission, does not show such a pessimistic landscape, although Denmark, Finland, Sweden and the Netherlands have made the greatest strides. Spain is ranked in 14th place.
In order to improve and embark on the next sailings, Europe must change its educational system. There are too few graduates in scientific and engineering subjects, otherwise known as STEM (Science, Technology, Engineering and Mathematics). One million technology jobs are unfilled in the EU for the lack of suitably skilled people.
It is late in the day for a European Google, but not too late for many other things.
[The Global Spectator will take a break from publication until September].