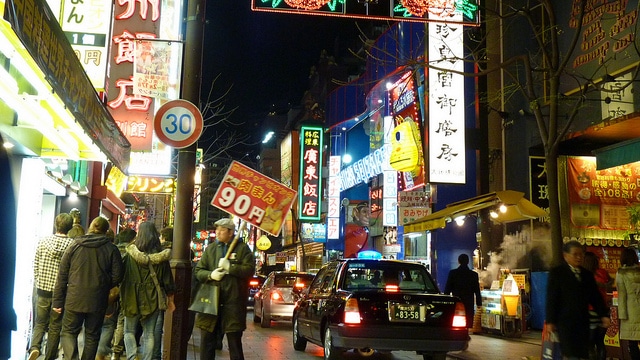 Last year the word chosen by a company that annually nominates the most popular expression in Japan was bakugai. In English it translates as 'explosive buying power', referring to the Chinese tourists who visit Japan. If one sees young women dressed in kimonos (and often their male companions too) in the Buddhist temples and Shinto sanctuaries of Tokyo and Kyoto, or in the street, there is a good chance that they will be Chinese, and that they will have rented them by the hour to take photos with their partners.
It is not the relationship between peoples that concerns the Japanese, many of whom view the Chinese tourists as they themselves were some decades ago when they started to venture out into the world. And they are grateful for the consumption in Japan and the fillip it is giving to an economy in the doldrums. What worries them is China's internal weakness, and especially that this might induce it to throw its weight around abroad.
When one wants to know something about a country it is always good to hear what the neighbours say, particularly when Japan has strong economic ties with China and notable experts on the country, not so much to gauge the strategic challenge they are posing the Japanese and other countries in the region, but rather to find out what is going on in Beijing; although more than one analyst acknowledges that 'we cannot see China's future', and 'unpredictable' is the word that keeps on cropping up in the context of the giant next door.
The slowdown in the economy is real, something that, according to this analysis, could induce the current leadership in Beijing to push nationalism even harder and backpedal on the 'Chinese dream' that President Xi Jinping has spoken so much of. The latter is accumulating a concentration of power such as has not been seen since the days of Mao Tse-Tung; although it may be that to achieve certain changes –necessary internal reforms– there is no alternative. His great weakness is that he has to think about his successor. In fact there have to be two power handovers in Beijing in the next 15 to 20 years. Tetsuo Kotani, senior fellow at the Japan Institute of International Affairs, thinks he has consolidated himself, but has created enemies in the process. Xi Jinping's term of office ends in 2023 and he will be judged by his successes and failures.
There is no point expecting the economic system to collapse in the short term, according to Akio Takahara, professor at the University of Tokyo. But the credibility of the Communist Party of China (CPC), with 88 million members in a country of 1.3 billion inhabitants, is on the wane, argues Satoshi Morimoto, a former Defence Minister, who shares the fear that the regime is acting in a nationalistic –and, above all, anti-Japanese– way abroad to compensate for the domestic situation. 'Xi Jinping's number one priority is to maintain the political system intact', not to drive the foreign agenda, argues another expert, and for this he needs the support of the people. The people also want to feel that China has been restored as a great power, however.
The Chinese cannot give way on two issues they view as fundamental: the maritime and the historical. The Japanese analysts consulted do not believe that the CPC has clear goals of maritime expansion. But it does seek to construct a narrative that deals with the 'centuries of humiliation' (Western and Japanese colonisation and invasion, invariably by sea).
Xi Jinping's recent speech on controlling the news media suggests that the regime is not prepared to relax its stance in this area. It is not that there is much demand for democracy in China, says Takahara, but there is an appetite to do away with cases of nepotism and abuse of power and strengthen the rule of law. Social protest is on the rise. The University of Tokyo professor claims that the 1,370 such protests recorded in China in 2014 rose twofold in 2015.
Tetsuo Kotani discerns a multitude of problems lying in wait for China's stability over the next few years. First because its economic growth, which was part of the CPC's legitimacy, has slowed; he does not see great social problems over the short term however, because the State has much more money to spend. But the demographic factor also weighs heavily, and owing to ageing and the effects of the 'single child' policy (now relaxed, although the effect of the relaxation will take years to work through), the Chinese 'may well become old before they get rich', as another observer notes.
Some of China's major projects are going to slow down or even grind to a halt, Takahara predicts, such as the so-called 'New Silk Road' and the 'One belt, one road' project. 'They're mulling it over', he says, and they have not in reality committed much money. 'They're not going to do anything that isn't profitable', he concludes.
The declared goal is to achieve a prosperous society by 2021. But 'they don't know what they want', other than that the CPC keeps its grip on power. This is something it will maintain over the next 15 to 20 years, despite slower economic growth. What happens next is more difficult to foresee. It is like 'an elephant that is trying to run as fast as it can', he says.
A brilliant future is not predicted for the Chinese economy. Japanese investment in China is half what it was three years ago due to the increase in Chinese labour costs (compared to Vietnam, India and Myanmar) and a market of middle-class consumers that could shrink. And Chinese factories are starting to use more machines (many of them robots made in Japan) than people.
Furthermore, 'it is not a country that has modernised in political terms', says Professor Kazuya Sakamoto of the University of Osaka. He points out that it is the only one of the world's major countries whose citizens cannot elect their leader. China has an imperative need for political modernisation, 'but placing nationalism above all else hinders it', he adds.
Sakamoto sees China as isolated 'and with no idea how to lead the world or the world order that it wants', although it knows it does not want the existing one. It lacks 'soft power'. But the professor highlights the pomp with which Xi Jinping was received last October at Buckingham Palace, residence of the head of State of the country that first colonised China.