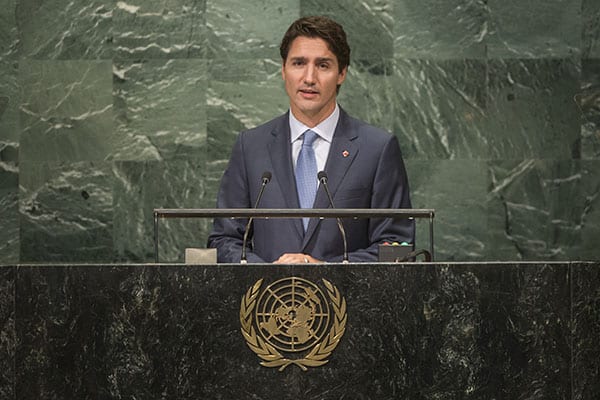 Canadian Prime Minister Justin Trudeau made a lasting impression on world leaders at the United Nations General Assembly in September. Trudeau was met with an enthusiasm seldom seen at the GA as he spoke about solving the global refugee and migration crisis, and the importance of inter-state cooperation when facing these challenges. His optimistic, heart-warming speech inspired 'love and admiration' from Bulgarian President Rosen Plevneliev, and considerable praise from world leaders and international press alike.
Trudeau's warm reception at the GA reflects the PM's stellar reputation after an apparently flawless first year in office. Canada's 'viral' Prime Minister has stood out in a year defined by division and fear as "the progressive voice of international diplomacy." In addition to Trudeau's international fame, he retains a strong approval rating at home. A recent study released by the Angus Reid Institute showed that he currently enjoys a 65% approval rating – his highest rating since taking office last November.
It's not hard to see where his popularity comes from. He has shown the world a new style of politician –one who proudly identifies as a feminist and welcomes refugees at the airport with open arms. Trudeau is working hard to rebrand Canada, in order to give the country long sidelined in international politics a new face.
Despite the euphoria which has surrounded his government thus far, Trudeau's Liberal government has had the least productive first nine months of any government in the past two decades, with a mere 10 bills passed into law. The Liberals said this is the result of an ambitious agenda. It's true that Trudeau has had a lot on his plate this year. Between launching a national inquiry into murdered and missing indigenous women and girls, creating a new Child Benefit program aimed at favouring lower-income families, and relocating over 30,000 Syrian refugees, it's clear that Trudeau has been busy.
Trudeau's busy schedule aside, the Trudeau government has been downplaying and sidestepping campaign promises in policy areas that were fundamental to winning his party a majority in last year's election. His dedication to the environment, Canada's marginalized indigenous population, and transparency of government institutions were crucial in his landslide victory. The Trudeau government's failure to deliver on important commitments in these policy areas draw attention to the imperfect side of Canada's 'flawless' PM.
Environmental Minister Catherine McKenna announced mid-September that Trudeau's government would not be updating the carbon emission targets set by Stephen Harper's conservative government, despite criticizing them as unambitious at last year's Paris climate talks. Despite enthusiastic support of the Paris Agreement, Trudeau has decided to maintain what are the weakest carbon emission targets in the G7. Canada's disappointing targets are likely the result of the Trudeau government's fear to put more pressure on Western provinces, already reeling from the effects of falling oil prices, with a more ambitious target. Nevertheless, this came as a blow to Canadians who were hoping to see Trudeau make Canada a leader in environmental policy.
In July, at the 37th general session of the Assembly of First Nations, Justice Minister Jody Wilson-Raybould announced that the government will not implement the United Nations Declaration on the Rights of Indigenous Peoples (UNDRIP) as promised during the campaign. Wilson-Raybould called the UN declaration "simplistic", "unworkable", and "a political distraction." Upon taking office, Trudeau's government was faced with the harsh reality that UNDRIP would be impossible to implement due to interferences with Canadian laws and modern land-claims treaties. The Declaration involves an implied veto power for indigenous communities on matters that directly affect the community. Not only would such a veto lead to legislative gridlock at all levels of government, but it would also jeopardize projects like the Kinder Morgan Pipeline, Pacific Northwest LNG, and the Site C dam.
On the campaign trail, Trudeau promised a total overhaul of controversial anti-terrorism legislation. Bill C-51, enacted by the Harper government following the 2014 shooting on Parliament Hill, has been heavily criticized for alleged violations of Canada's Charter of Rights and Freedoms. Critics of the Anti-terrorism Act find the empowerment of CSIS, Canada's intelligence service, especially troublesome due to the lack of sufficient parliamentary oversight. Despite pledges to review C-51 to ensure Charter-compliance, the RCMP (the federal and national police force of Canada) and CSIS continue applying C-51 "to 'disrupt' terrorist networks."  Trudeau, who supported the bill to avoid a 'soft on terror' label, has remained silent on C-51, causing great concern among civil society organizations. Trudeau's Liberals appear to be avoiding reopening the anti-terrorism debate.
Trudeau shows great promise as a leader. During the past year, the positive attention Trudeau has received internationally has given the world a reason to be optimistic. With that said, leaders must be criticized, and with Trudeau's incessant good press, critical voices are not being heard. As critics of Trudeau are overshadowed by the PM's spectacular PR, there is lack of pressure on Trudeau to be a more accountable politician. As Trudeau sets his sights on a seat on the UN Security Council in 2021, he could draw from his critics in order to become a better, more effective leader. When it comes to Trudeau, it's time to exchange the rose-coloured glasses for a critical lens.