On occasion of the recent meeting at the Elcano Royal Institute with the French Ambassador to Spain Jérôme Bonnafont on 29 October,  we continue our series of posts on what's new on the IEPG 2012 ranking.
In 2012 France was 5th in the IEPG, after dropping one place from the 3rd position it held during the 1990s and which has now been taken by the UK, and after losing one position with respect to the 2011 IEPG, due to the rise of China and the lower growth of France's economic variables.
France's evolution in the IEPG is similar to that of other European countries: it has a high soft presence (accounting for 54% of the IEGP in 2012), with an increase in the economy component and a drop in relative terms in its military presence. France's soft presence is based on tourism (as it is the world's leading tourist destination), development cooperation, migration and technology. Nonetheless, since 2010 there has been a slowdown in its soft presence. Therefore, last year's rise in the IEPG is due exclusively to the economic dimension, which has registered a slight increase.
France occupies the 3rd position in all the years in which the Elcano European Presence Index (IEPE) is calculated. It should be noted that the economic dimension is the greatest contribution to the French presence in Europe, with 54% of the value of the IEPE in 2012, unlike in global terms, where it mainly relies on the soft dimension. This is mainly due to three economic variables: investments –with the largest accumulated stock in the European Union–, primary goods and services. However, this does not preclude it from also having a strong presence in the soft dimension, in which it ranks 3rd, given the importance of French tourism, culture and technology. In fact, this allows France to overtake the Netherlands in the IEPE ranking, despite having a lower economic presence.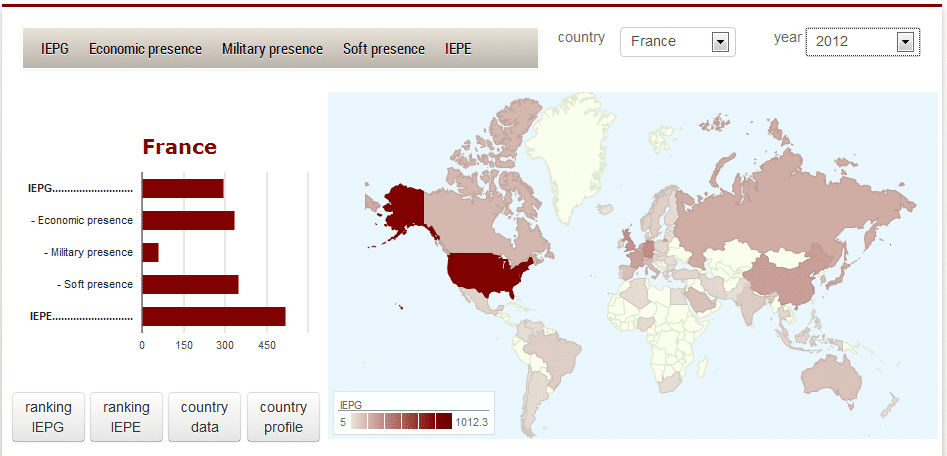 More data and info on the Elcano Global Presence Index website.