On June 28-30, the world watched as heads-of-state and government, military leaders, and senior officials gather for the NATO Summit in Madrid. This year's summit could not come at a more critical time. Russia's aggression, Ukraine's fight for freedom, and the membership applications of Finland and Sweden were only some of the important issues on the agenda.
The Summit was accompanied by a Public Forum hosted by four leading civil society organisations – the Elcano Royal Institute, the German Marshall Fund, the Munich Security Conference and the Atlantic Council. They worked in partnership with NATO to host experts and decision-makers from around the globe to add further perspectives to the Summit.
The forum brought together stakeholders beyond the traditional security and defence community in a discussion about the future of the world's most powerful political-military alliance.
The event was open for registration of online audiences from across the globe, who were able to join the interactive discussions.
Read more about the 2022 NATO Summit here.
Live broadcasting
Photogallery – Day 1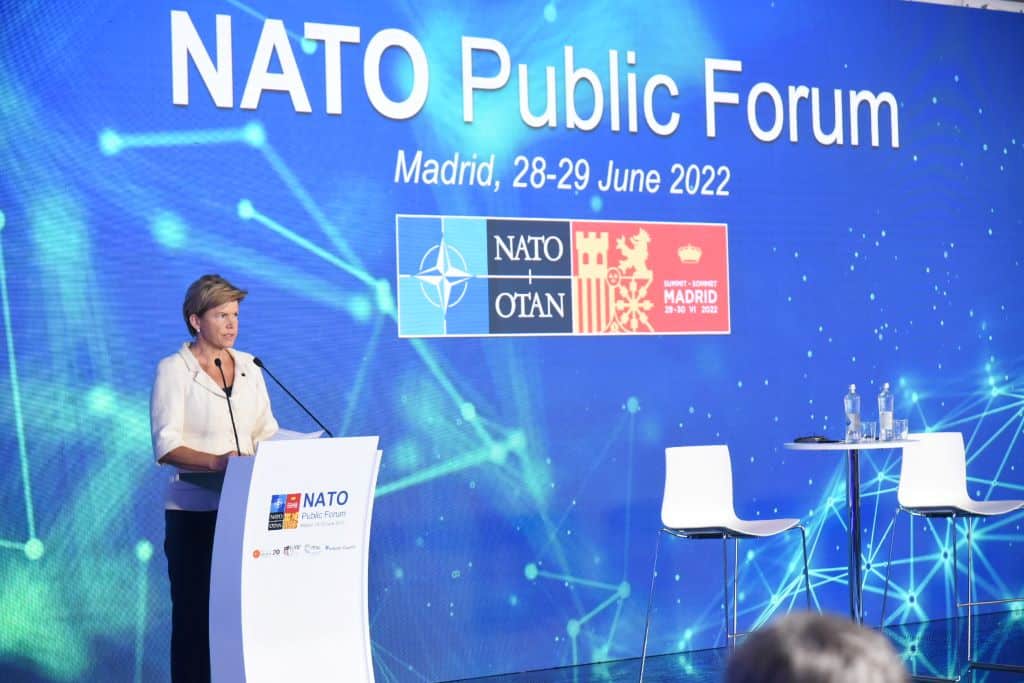 Photogallery – Day 2 (NATO in an Era of Great Power Competition)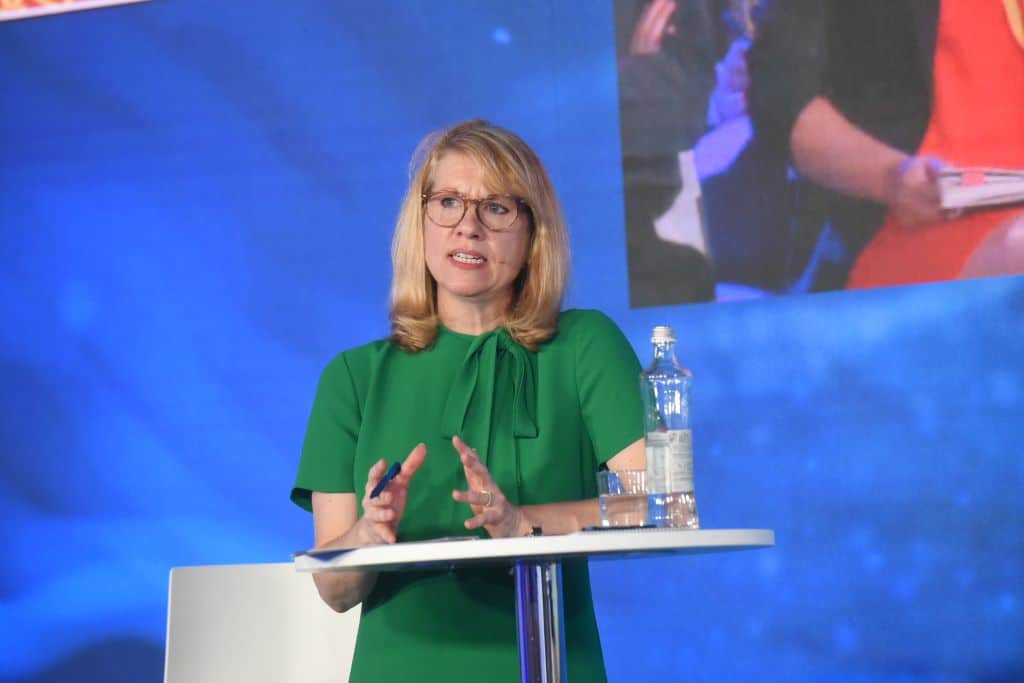 Photogallery – Day 2 ("Zeitenwende": Deterrence and Stability in and Around Europe)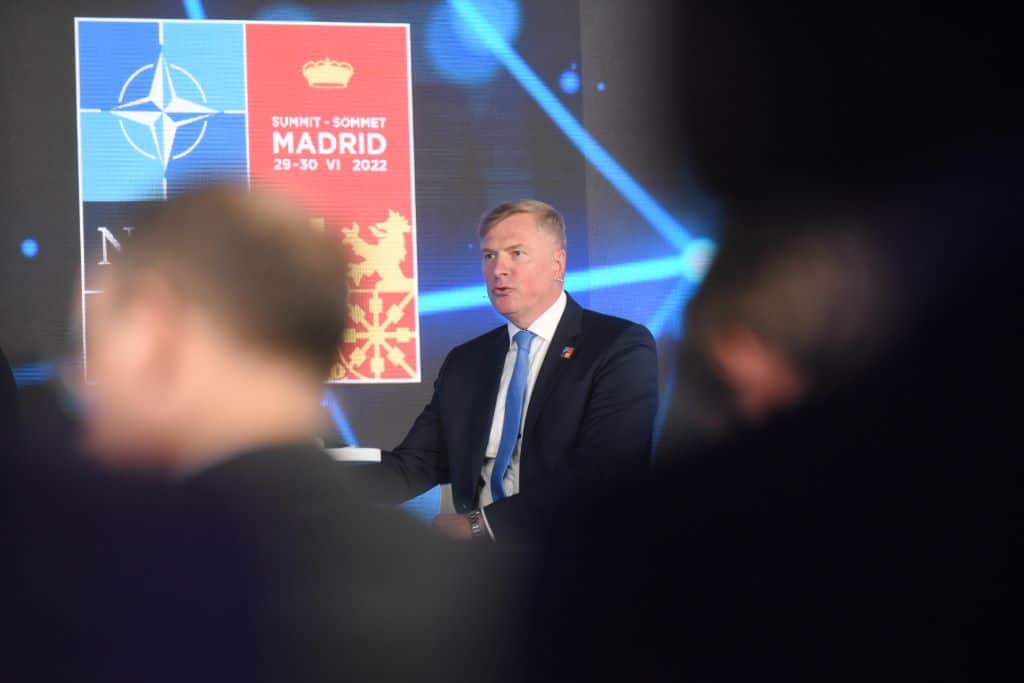 Photogallery – Day 2 (The Transatlantic Bond and NATO's Purpose in a Changing World)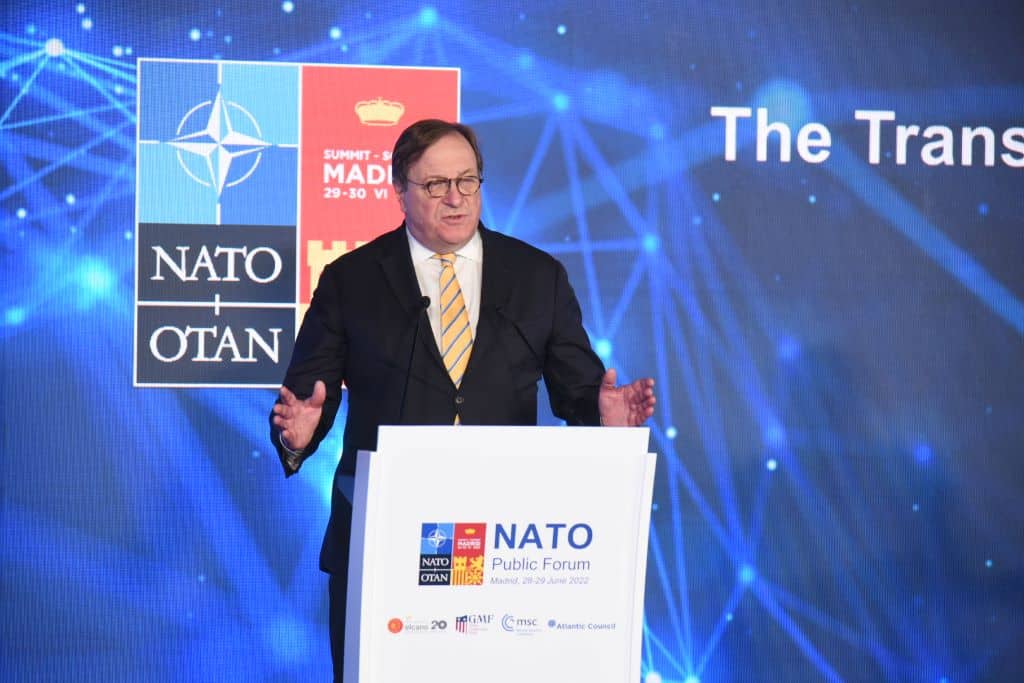 Agenda
28

Jun 2022

Welcome and introductory remarks

15:00-15:10

Baiba Braže
Assistant Secretary General for Public Diplomacy, NATO

José Juan Ruiz Gómez
Chairman, Elcano Royal Institute

28

Jun 2022

High-Level Dialogue on Climate and Security. Rising Temperatures, Rising Tensions: Climate Change and Alliance Security

15:10-15:12

Introductory Video

15:12-15:40

Introductory Conversation with the NATO Secretary General

Jens Stoltenberg, Secretary General, NATO

Moderator: Hadley Gamble, CNBC Anchor

15:40-16:05

Break

16:05-16:20

Special Address by H.M. King Felipe VI of Spain

16:20-16:30

Address by Mircea Geoană, Deputy Secretary General, NATO

16:30-16:35

Intermezzo #1: Pre-recorded Policy Pitch on Climate Security by Young Expert. Katarina Kertysova, Policy Fellow, European Leadership Network

16:35-16:55

Scene Setting

Rainer Baake, Founder, Climate Neutrality Foundation

16:55-17:55

Panel Discussion

Annalena Baerbock, Minister of Foreign Affairs, Germany

Anita Anand, Minister of National Defence, Canada

Ángeles Moreno Bau
Secretary of State for Foreign Affairs, Spain

Sherri Goodman (remote), Secretary General, International Military Council on Climate and Security

Moderator: Hadley Gamble, CNBC Anchor

17:55-18:00

Intermezzo #2: Pre-recorded Video Pitch on Gender-Climate-Security Nexus. Cori Fleser, Forge Group LLC

18:00-18:10

Closing Remarks

Christoph Heusgen, Chairman, Munich Security Conference

29

Jun 2022

Thematic Session: NATO in an Era of Great Power Competition

09:00-09:02

Introductory Video

09:03-09:05

Introduction: Charles Powell, Director, Elcano Royal Institute

09:05-09:45

Conversation with NATO and Partners, followed by a Q&A with audiences in Madrid and Brussels

Alexander De Croo, Prime Minister, Belgium

Anthony Albanese, Prime Minister, Australia

Elisabeth Truss, Foreign Secretary, United Kingdom

Closing remarks
Pedro Sánchez, President of the Government, Spain

Moderator: Heather A. Conley, President
German Marshall Fund of the United States

09:50-10:35

Panel discussion with International Experts

Alice Ekman (remote from Brussels Forum)
Senior Analyst Asia, European Institute of Strategic Studies

David Ignatius (remote from Brussels Forum)
The Washington Post

Julia Joffe, Journalist, Founding Partner and Washington Correspondent, Puck News

Carl Bildt (remote from Brussels Forum)
Co-Chair, European Council on Foreign Relations

Luis Simón, Director, Brussels Office and Senior Analyst
Elcano Royal Institute

Moderator: Heather A. Conley, President
German Marshall Fund of the United States

10:40-11:25

Panel discussion on Advancing NATO's Technological Edge

David van Weel, Assistant Secretary General for Emerging Security Challenges, NATO

Francesca Bria, President, Italian National Innovation Fund

Casper Klynge (remote from Brussels Forum)
Vice-President for European Government Affairs, Microsoft

Alex Romero, COO, Constella Intelligence

Moderator: Natalia Drozdiak, NATO Correspondent, Bloomberg

11:30-13:00

Lunch break

13:00-13:30

Special Address on the Situation in Ukraine (virtual link)


With Andriy Yermak, Head of the Presidential Office, Ukraine

Moderator: Christoph Heusgen, Chairman
Munich Security Conference

29

Jun 2022

Thematic Session: "Zeitenwende": Deterrence and Stability in and Around Europe

13:30-14:15

Conversation on the Future of Deterrence & Defence

Kalle Laanet, Minister of Defence, Estonia

Kajsa Ollongren, Minister of Defence, Netherlands

Pekka Haavisto, Minister of Foreign Affairs, Finland

Moderator: Christoph Heusgen, Chairman
Munich Security Conference

14:20-15:00

NATO's Contribution to Security and Stability in its Neighbourhood

Helena Carreiras, Minister of Defence, Portugal

Dragomir Zakov, Minister of Defence, Bulgaria

Slavjanka Petrovska
Minister of Defence, Republic of North Macedonia

Admiral Rob Bauer, Chair, Military Committee, NATO

Moderator: Kristina Kausch, Senior Fellow
German Marshall Fund of the United States

15:00-15:15

Coffee Break

15:15-15:55

Ambiguous Threats, Determined Responses: Countering Hybrid Threats against NATO Allies

Anna Wieslander, Director for Northern Europe, Atlantic Council, Stockholm

Lieutenant General Hans-Werner Wiermann
Director General International Military Staff, NATO

Irene Fellin, Special Representative of the Secretary General for Women, Peace and Security, NATO

Moderator: Lili Bayer, POLITICO

16:00-16:05

A View from Kyiv

Introductory Remarks
José Luis Martínez-Almeida, Mayor, Madrid

16:05-16:30

A Conversation with audience from Madrid

Vitaliy Klitschko, Mayor of Kyiv
Leader, Party of the Ukrainian Democratic Alliance for Reforms

Wladimir Klitschko, Chairman, Klitschko Foundation, Kyiv

Moderator: Lili Bayer, POLITICO

29

Jun 2022

Thematic Session: The Transatlantic Bond and NATO's Purpose in a Changing World

16:30-16:40

Introduction by Frederick Kempe
President and CEO, Atlantic Council

Special Address by Speaker Nancy Pelosi
US House of Representatives (pre-recorded)

16:40-17:25

Reinforcing Public Commitment to the Alliance

Jeanne Shaheen, Senator from New Hampshire, US Senate

Thom Tillis, Senator from North Carolina, US Senate

Edgars Rinkēvičs, Foreign Minister, Latvia

Moderator: Frank Langfitt, International Correspondent for London, National Public
Radio

17:30-18:15

A Conversation on the Transatlantic Bond and NATO's Purpose in a Changing World

Luigi di Maio, Minister of Foreign Affairs, Italy

Catherine Colonna, Minister of Foreign Affairs, France

Ann Linde, Minister of Foreign Affairs, Sweden

Moderator: Frederick Kempe, President and CEO
Atlantic Council

18:15-18:35

NATO after Madrid

José Manuel Albares, Minister of Foreign Affairs, Spain

Antony Blinken, Secretary of State, United States of America

Moderator: Michel Martin, Weekend Host of All Things Considered and Consider This, National Public Radio

18:35-18:45

Closing Remarks by  Baiba Braže, Assistant Secretary General for Public Diplomacy, NATO, and José Juan Ruiz Gómez, Chairman, Elcano Royal Institute


with the Elcano Royal Institute, German Marshall Fund, Munich Security Conference and the Atlantic Council on Stage